When I last posted an update I was in Mustique with my charter guests. We sailed from Mustique to Bequia and from there all the way to Soufriere on St. Lucia, had an overnight stop there, before we sailed up to Rodney Bay, where the charter ended. The charter was awesome and I was sad to see it end. I look forward to meeting all of them somewhere in the future.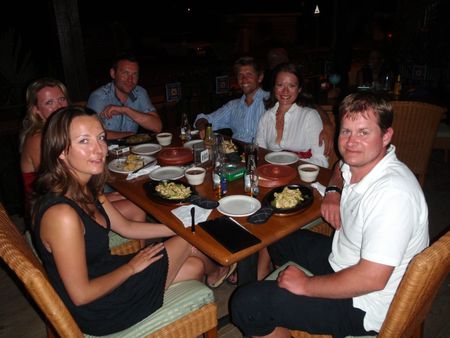 In St. Lucia, Claudia and I got the boat ready and already the following day met up with Captain Stig from the Serenade of the Seas. Stig was very reluctant to set his feet on a cat, but I think he left impressed.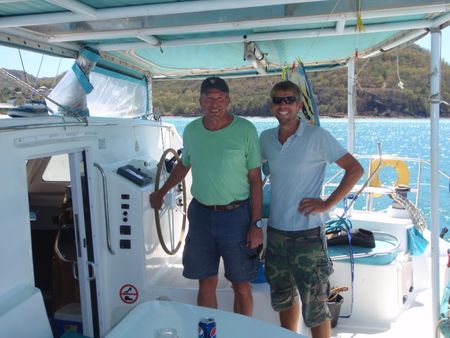 We also squeezed in a little lunch ashore … The Serenade MOB boat kind of filled up the dinghy dock.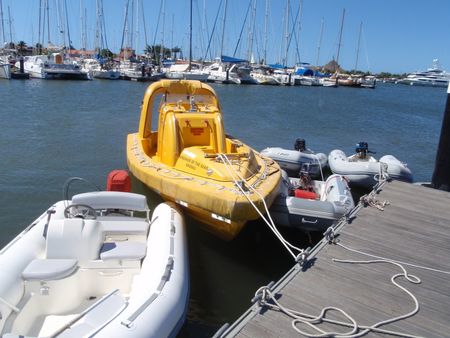 The following day we received Catherine, a journalist from the Times of London, who was writing an article about seeing the World through crewing on yachts. She stayed onboard for 3 days and to sail a bit, we lifted anchor and did a fast daytrip up to Martinique, where we ate lunch, before we returned to Rodney Bay.
In St. Lucia Andy (or number 3 as we also called him) joined the crew. We actually work with numbers, me being number one, Claudia number two and when we got to Aruba, Steve number four. Andy turned out to be an excellent addition to the team. I think I will forever remember his breakfast specialty: Cashew potatoes.
With Andy onboard and Catherine ashore, we lifted anchor and set sail for Aruba. Almost immediately the Backgammon World Sea Series ensued. It was a battle of the masters: Claudia and Andy being fairly evenly matched … and me pulling up a distant 3rd.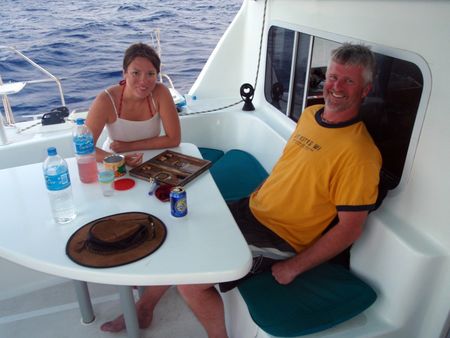 The sail to Aruba was nice and very comfortable. It was amazing how much simpler it is to sail downwind than it is to struggle against the wind. Now we had wind, waves and current on our side and we flew down there. Andy introduced me to a new favorite event onboard: Bucketshowers. Yay!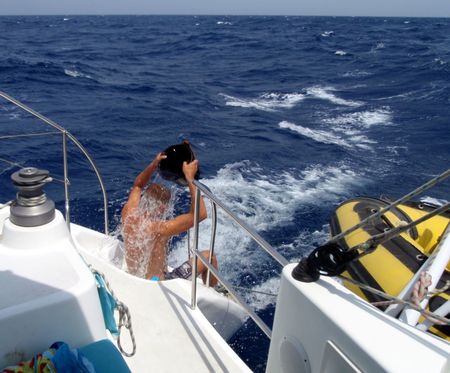 There is simply no better way to cool down on a warm day. The sailing was smooth and we averaged between 6 – 9 knots sailing only on the genoa. We had the mainsail up in the beginning, but the mast started pumping and the sails were overlapping each other, so we went with the genoa, since it is such easy sailing with only it up. We didn't start the engines before we were 4 hours away from Aruba, when the wind suddenly died.
We got in to Aruba and anchored on the North side in the hotel district. In good fashion we had a few drinks and relaxed, before we got a great night sleep on the hook. The next morning we checked in with the boat in Barcadera and dropped anchor just off Renaissance Marina in Oranjestad after stopping by Aruba Nautical Club to wash the boat for free and take a long fresh water shower. Andy later had to bite the bullet and make pancakes without having syrup to put on them. He was surprised to find out that butter & sugar or jam are great substitutes. He's not a convert, but he sees the value …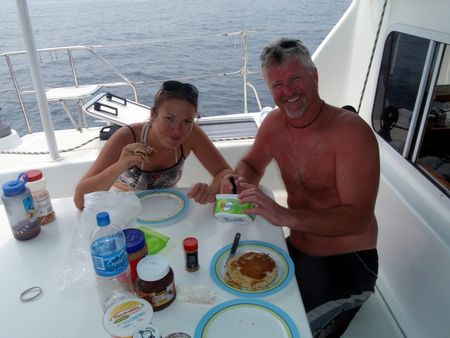 How was the stay on Aruba? … It sucked … NOOOOOT! It was excellent to be back again. We dinghied ashore into Oranjestad and found out that Steve would be landing in the afternoon. This was great news, because originally he was supposed to arrive the following day and would only have had about 24 hours with us. Now he got over 2 days. The stay was made even more excellent by the incredible hospitality and helpfulness of Hans and Dayenne. They hosted the best BBQ I have ever been to, the food defies what I thought would have been possible to make on a grill.
Below are some random shots from the stay:
One of the highlights of the stay was when we rented a jeep and went sightseeing, driving around on the rugged windward side. We really put the Jeep, affectionately named Bessie, to the test and she passed with flying colors. We saw the Natural Bridge, the Natural Pool and lots of cool secluded spots.
Though Steve was only there for a short period, it was an awesome time and I look forward to the next time we meet.
When Steve took off we went to the movies to see Avatar in proper 3D. We did our best to sex up the 3D glasses look.
Unfortunately Claudia had to go home from Aruba to sort out some stuff at home. Her presence will be sorely missed onboard. The day after she left after we were fully provisioned, Andy and I lifted anchor and set sail right before sunset.
The wind was a bit light in the beginning, but sailing on just the genoa, we were doing around 6 knots, so we settled into a good routine and enjoyed the ride. For the most part we only used the genoa, so that we could chill out. We also used the gennaker for about half a day when were becalmed just off Barranquilla when the wind really died. This is when we got some visitors.
Thereafter we had strong wind and in periods really big waves. We guesstimated that they were around 3 – 4 meters tall.Of course when I tried to film it, this happened:
In the end we pulled in past the Colon break-water, zigg-zagging between HUGE freighters and tankers. It was pitch black and without a proper chart and never having been there before, we decided to drop anchor and wait for sunrise. We had hardly mixed our first rum and Cokes, before a motorboat screams past us, loud and proud, and runs aground properly. There was nothing we could do to help him, because he received assistance from two other boats, so we did the only respectable thing to do: We got hammered, while playing BeerGammon with rum and Cokes. I had two amazing first rounds, much to Andy's detriment.
When we pulled into Shelter Bay Marina the following day I could finally relax. I was in the right spot to wait for the Pacific crew and I was ready for further adventures.
Andy and I ended up partying with a group of life loving Canadians … I was blown away by their ideas on childcare. They let their 14 year old have a couple of drinks with vodka in the evening and it was fine that he smoked weed, but they hid the Bolivian marching powder from him. I will aspire not to be like them. Having said that, we had a great party together.
I kicked them all of my boat at 3:30 am, so that Andy and I could chat together in silence before he jumped in a cab at 4:00 am and headed for the airport.
I was now alone, but only until my brother and the rest of the Pacific crew arrived, but more about that in the next update.
The trip since I came back onboard in November has been amazing. The Caribbean adventure is now ending and the Pacific Odyssey will soon commence. I can't wait.