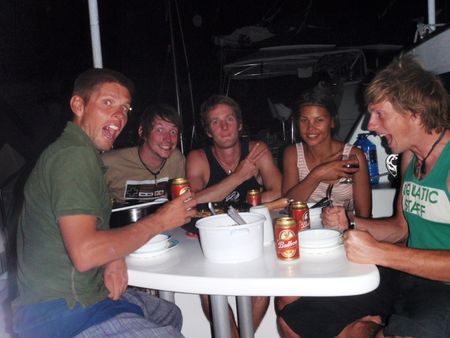 The Pacific team is finally united. They arrived on the boat a little after midnight and we proceeded straight into some beer sampling, so that we would know which beer to bring with us into the Pacific.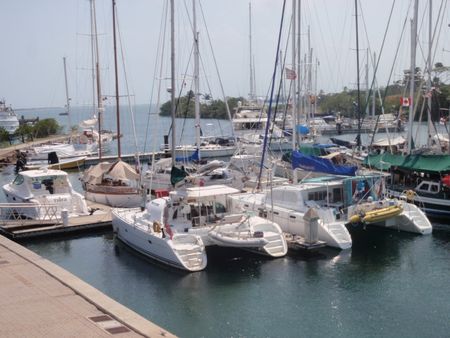 We were in Shelter Bay Marina, about 30 minutes away from Colon in Panama. Though the marina is nice, it is far away from anything of interest and you quickly run up a bill there if you stay too long. We maximized our stay there by doing work on the boat that would be tough to do on anchor. We changed the trampolines, from the old nylon type, to new super strong Dyneema ones, resealed hatches and prepared the inside, so that it will comfortably house all 5 of us.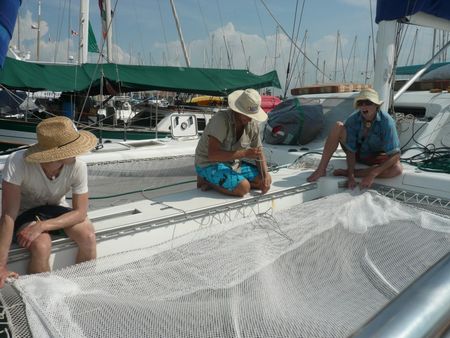 While we were tied up to a dock it was also a perfect time to do our heavy provisioning. We went to the stores with a loose list of things to buy. We immediately picked up 46 cases of beer and 2 cases of rum. It's the only way to provision, because it is unforgivable to run out of beer on any long journey.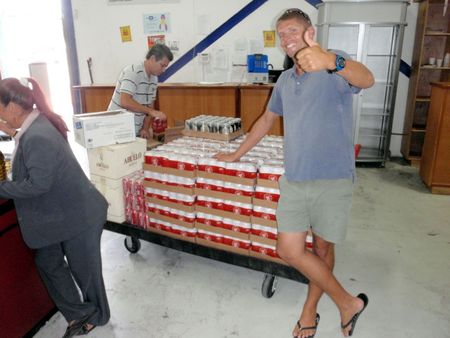 We did most of our water and canned food shopping as well, hoping to do the fresh meat, fruit and vegetable shopping right befor we cast off for Galapagos on the Pacific side of Panama. In the end we had purchased a long list of heavy things that would have been a pain to dinghy out to the boat.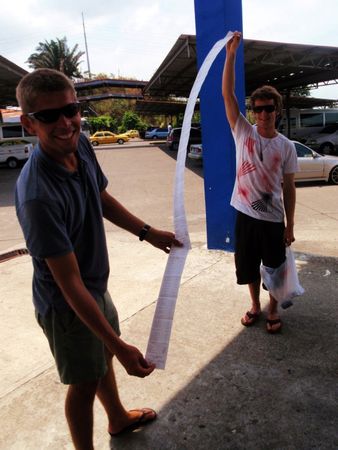 Since we were tied up in Shelter Bay it was easy to load all the supplies onboard. We were super careful though and didn't bring any cardboard onboard, to minimize the chances of getting roaches onboard.
It seems like a ton of stuff, but it's amazing how much food 5 adults can go through. We've already decided that we didn't buy enough booze, so we will stock up more when we get to the Pacific side. Rumor has it that it will be extremely expensive to restock beer and booze in the Pacific and seeing that we pay under $70 for a case of good rum here and beer costs around $10 a case, it's stupid not to overload here 🙂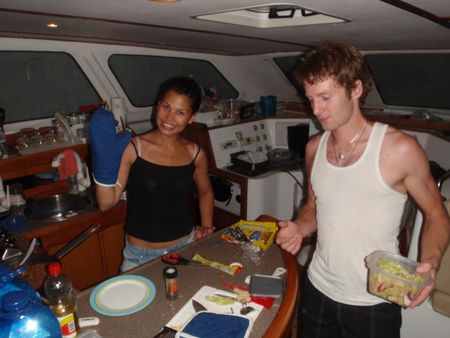 The galley team (Elisabeth and Jacob) have put together some awesome meals, so we've not been left wanting. Every night feels like a gourmet dinner.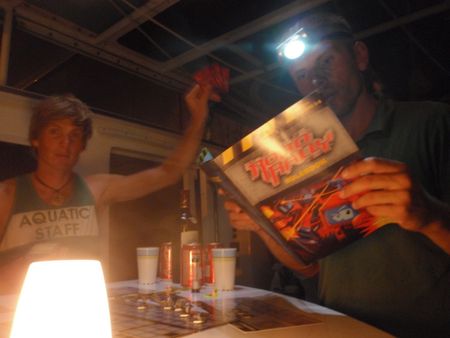 We've also started playing RoboRally. Let's just say that the more you drink, the better it gets, because the more crap you play. It's a sure winner, when mixed with Beer, rum & Coke.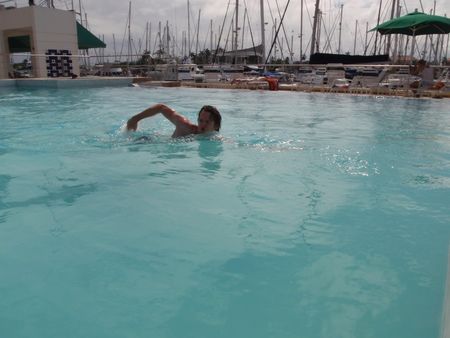 In the daytime, when it gets too hot, we've been diving into the pool and we've also played a few rounds of Volleyball with other likeminded individuals.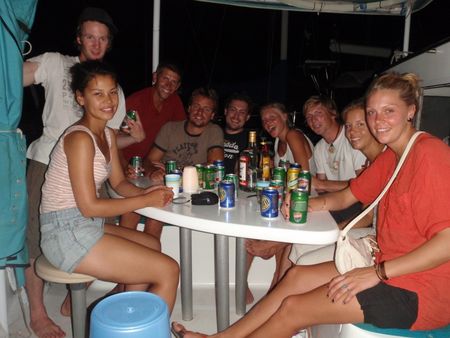 I've been really happy to find that there has been a lot of younger cruisers waiting to go through the Panama Canal. Everywhere else it seems like the average age is 60, but in Shelter Bay, we met a number of boats with people our age onboard. This has made Shelter Bay a very social affair for the boats there. The good thing is that everyone is basically going the same way, looking for the same things and wanting the same kind of information.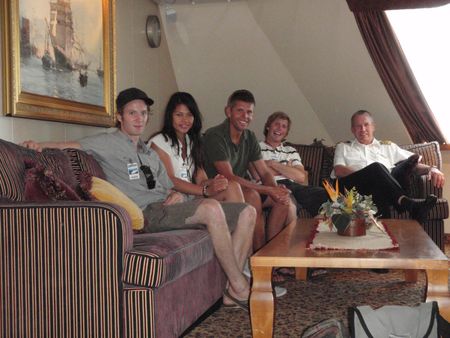 The day after Martin, Jacob and Elisabeth arrived, we were invited onboard the Jewel of the Seas by Captain Stig Nilsen. We headed there and enjoyed a day in luxury. It was pretty surreal to walk around in the Windjammer and select from an abundance of food.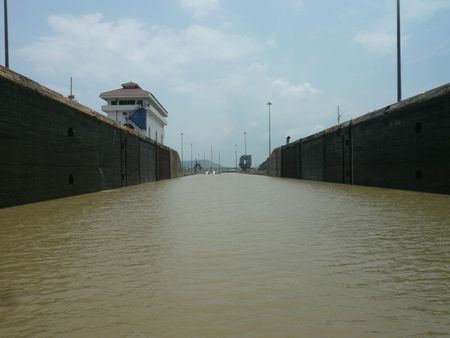 We have found out that Panama is all about waiting. If you're not waiting for one thing, your waiting for another. Most people use an agent to take care of all the paperwork, but I opted to do it myself and it turned out to be a smart move, because I was able to get us through just as fast and I saved us around $400 by doing some really easy steps. I got our boat measured, so that they would know who to team us up with when going through the Canal, I paid the $1500 they require for you to transit. Out of that $900 is a deposit that they return to you afterwards, as long as you don't damage og slow down the movement in the Canal. The crazy thing is that they make you pay it in cash in a bank without an ATM, so you have to carry a large sum of money through one of the most dodgy areas of Colon (which in itself is a dodgy place). Then I got a hold of tires to protect the sides and long mooring lines to use when locking up and down. While I took care of these practical things, the rest of the team changed trampolines and did various other jobs to get us as ready as possible.
In order to prepare properly for our transit, we crewed on Astraeus, a Canadian boat Captained by "Kill" Bill. This gave us valuable insight in how the transit would work, before we did it with my boat. We had a lot of fun with them and felt thoroughly ready when we got back from the transit with Bill. Unfortunately the incompetence of the Panamanian Canal Company reached new heights and we were delayed almost a week, before we finally went through. A large number of boats were very frustrated by how the Canal Company handled the delays, but in the end we were all happy to finally be leaving Colon, bound for the Pacific.