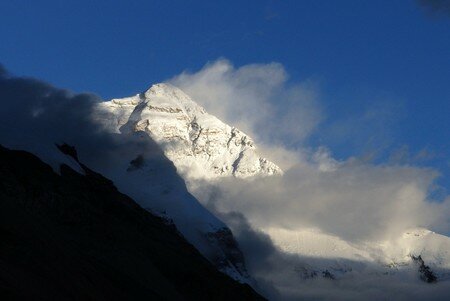 After coming back from the first trek where we almost fell into the potentially fatal clutches of altitude sickness, it was nice to chill out at 3700 meters in Lhasa (I say "we", because I'm traveling with Torstein, a buddy from Norway). We didn't linger in Lhasa having already spent 3 days there before going on our first trek, so we headed out early the next morning in a 4×4 Toyota Land Cruiser that we rented together with 3 other friends of us (Isa, Dave and Maik) . Our driver took us on a an exciting 3 day journey through spectacular landscapes towards Rongphu monastery that lies 8 km away from the Everest Base Camp (EBC). On the way there we stopped by Yamdrok-tso, where a "friendly" fisherman angrily took off in his boat when we took pictures of it. We also stopped in Gyantse and Shigatse where we looked at 2 impressive monasteries. It was nice to get a feel of something outside Lhasa. We also spent an "exciting" night in the Godforsaken village Lhatse. The drive was made especially exciting, because it seemed like our driver had never received any driving education, so his driving was, to put it mildly completely: crap and incredibly dangerous… but we survived…
When we got to Rongphu the three we traveled with decided to spend 1 night at the monastery and 1 night at the Everest Base Camp (EBC).
Torstein and me had after asking around a bit decided to spend 4 days trekking in the Everest area from EBC, instead of doing the trek from lower down and up to EBC (which would have been all uphill along a dusty road where 4×4's would be speeding by). We parted ways. They would later take the Land Cruiser to the Nepali border where they would continue traveling, while the Land Cruiser would return to pick us up 4 days later. We headed up to Everest Base Camp at 5200 meters and were … shocked at how touristy it was. There was a 100 meter stretch of hotel- and tea-tents where friendly Tibetans were trying to entice us to enter. We resisted and instead found the guy in charge of the EBC. After a little chat with him (which included the parting of some cash) we were allowed to proceed beyond the EBC and into the wild and dangerous region leading up to Base Camp II and III. Wise from our first trekking experience in Tibet, we moved cautiously forward and set up base about 1 hour away from the EBC.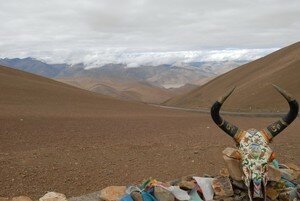 Our spirits were high and we cooked an excellent meal, before we crawled into our sleeping bags to get about 12 hours of sleep. At that altitude taking care of yourself properly; eating, drinking and sleeping becomes essentials. The next day we tore down camp and started walking towards Base Camp II (also known as Advanced Base Camp) which was supposed to lie at 5500 meters. We hadn't walked far when we realized that we had spent the night on a huge glacier. This explained all the cracking sounds we'd heard in the night and why the area around us had seemed so … dynamic. We pressed on along the only trail we could find. We naturally got to a fork in the trail, where one led straight towards Everest, while the other went hard left. Naturally we took the one that went hard left, because the crappy map in the Lonely Planet indicated that it might be the right way. What was real funny, was that we didn't realize that Base Camp II was at the fork. We were only planning to walk to it on this fine day, but without an accurate map it was real tough to judge distances, so we pressed on. What makes it even more comical is that we totally didn't realize this until we were about 2 hours away from Base Camp III. Shortly before realizing where we were, we had stashed our backpacks in the middle of the trail, because we were getting too tired to carry them.

We were walking on the very active East Rongphu glacier to get there. There is no doubt walking there was dangerous, but we were careful. Getting to Base Camp III was unbelievable. We knew we were really pushing the envelope and we were literally just about to turn back when we found ourselves in Base Camp III. We climbed up to a top overlooking the Base Camp and recorded 6352 meters above sealevel. We were less than 2500 meters away from the highest point on the planet. Our spirits were high, but we knew our limitations.
We stuck around for about an hour taking all sorts of pictures and being incredibly happy, before we returned to our backpacks and headed down to where we had set up camp the first night. This way we completely eluded Altitude Sickness and could enjoy a new fabulous meal. Base Camp III was our summit.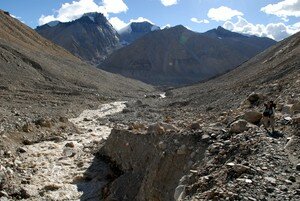 It was the highest we could possibly go without paying huge sums to climb … not to mention the preparation and equipment we would have needed to continue. We were incredibly happy. We were also exhausted from it and spent the next day chilling in our own "base camp". We read books, made good food and took a bunch of Everest pictures. When we hit the sack on what would be our last night there we were expecting a quiet night. Everest wanted it otherwise.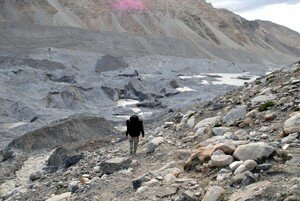 At midnight we woke up and found ourselves in one of the worst thunderstorms I've ever been through. The glacier we were sleeping on was cracking, avalanches and rockslides were constantly running down the side of the mountain and the sky was illuminated by lightning. It was intense. Then a blizzard started and snow started piling down. We had to stay awake the whole night pushing snow off the sides of our tent to prevent it from collapsing.
Then magically it all stopped when the sun came up… Well, we couldn't see the sun. We couldn't see much of anything to be honest, because a thick fog shrouded the glacier. Due to the general activity around us (rock slides and active sounds from parts of the glacier collapsing) we decided to move down to a safer area. So we broke camp and walked carefully down to lower altitudes keeping a very vigilant eye and ear towards the mountainsides for avalanches and rock slides. We saw and heard at least 10-15 of them as we headed out of the area.
Having walked down to the Rongphu monastery we enjoyed a warm meal and a cold beer to celebrate our feat. This was our first beer on the trip and to be honest we both felt a bit tipsy from it. When our driver showed up we jumped into the Land Cruiser and said our goodbyes to Everest … Good bye for this time … Next time we'll go further!