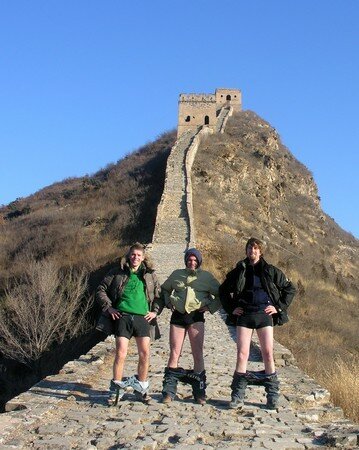 1 picture definitely speaks a 1000 words!
Believe it or not, but it was many degrees below freezing, so standing with our pants around our ankles was no picnic. I was luckily able to stay somewhat warm running back and forth between the camera while we were getting the shot set up.
I'll back-track a bit. After spending a couple of days to recover from our festive New Years eve celebration, it was time to head up to the Great Wall, so that Stein and Jeff could become real men as well (as per Mao). We were very lucky with the weather the day we went, because the sun was shining and it was gorgeous. It was still incredibly cold, but three brave Northern Europeans weren't about to let a little chill stop our outing.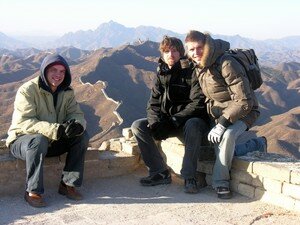 We took a cab from outside my apartment straight to Simatai for about RMB 450, for the return trip. When we got to Simatai it was virtually deserted, because few others wanted to experience the Wall on such a cold day.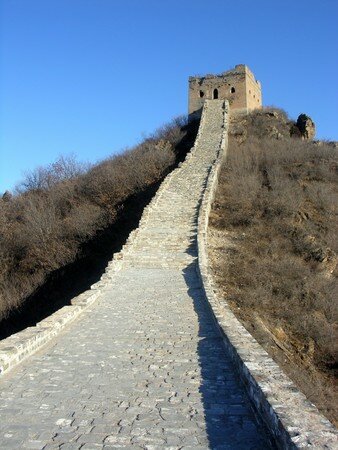 We hiked up high on the wall. Smoking and hiking doesn't mix and Jeff had to stop before we got to the top, to catch his breath and relax. Stein and me pressed on and got to the top of the highest section, where we took a ton of pictures.
When we got back down to Jeff, it turned out that he had made friends with some of the guards. It was more out of necessity than a need to talk (since they didn't speak English anyway), but Jeff felt like he was freezing to death, so he took charge. He bought a can of Nescafe ice-coffee and got them to light a fire and heat the can, giving him a much needed warm cup of coffee.
With the hiking over we headed back down to the taxi, to get back to Beijing in a hurry to enjoy a nice cold beer … inside a WARM bar. We deserved it!