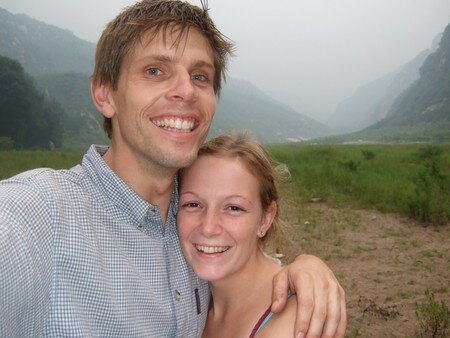 In June 2007 a busload of us headed to Bai He to recapture the glory of the camping trip we had in May 2006. Needless to say we didn't find Bai He that time. Yes, it is possible not to find it, if you're driver takes the wrong way. Steffi and I set out to rediscover Bai He. We utilized public transportation with great success. I was more than a little relieved when we stood at the right entrance to Bai He. Ahead of us we had about an hour hike down to the river, where we were ferried across, by a Speedo clad Chinese man.
At the other side of the river we walked for another 10 minutes before we set up camp. We were halfway through our first beer and a game of badminton, when a couple of fishermen stopped by to say hi. They were amused of the tiny pile of wood I'd gathered to make dinner with. I gave them a couple of beers and then one of them gave me enough wood to keep us going for hours. He even lit it for us. Good man!
Darkness crept in and we were happy to have the fire, because it got a bit cooler. It also enabled us to make some awesome bacon hot dogs.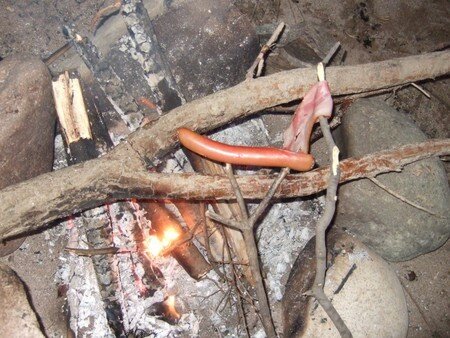 There was no danger of us going to bed hungry. We spent the rest of the evening drinking beers, telling stories and enjoying being away from Beijing.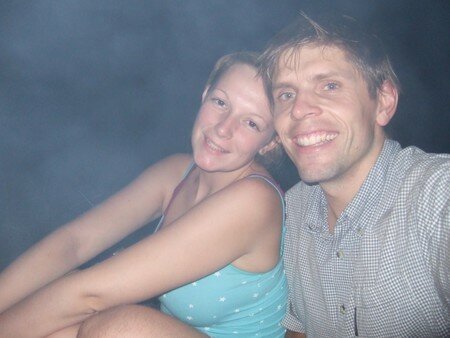 The next morning, we decided to walk out of the valley at the opposite side of where we walked in. This was new territory, because neither of us had ever gone that way before. We had to wade across a deep river twice and had to do quite a hike to get out, but it was nice. Exhausting, but nice.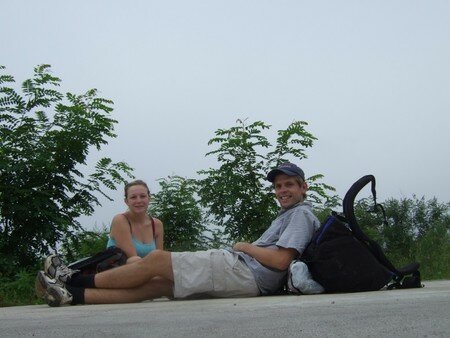 When we finally got down to civilization we hitched a ride with a car, that drove us to the nearest town, where we caught a bus back to Beijing. It had been a short, but excellent trip and now I know the way back for future camping trips.