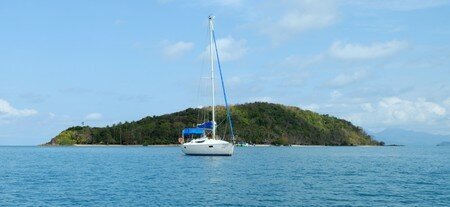 There is something not right about having a girlfriend that's never been on board a sailboat when you're planning a circumnavigation. This trip to Thailand was a great way to remedy that, while introducing Steffi to the pleasures of sailing. I had chartered a Beneteau Oceanis 32, which was a perfect boat for the two of us to play around with for a week.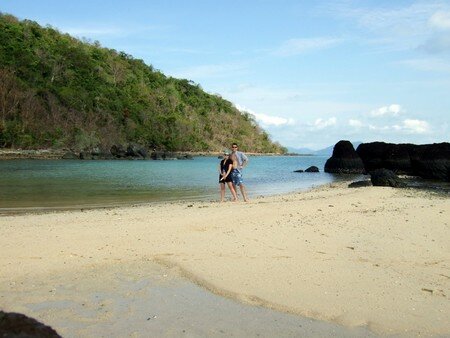 After being picked up by a driver at the Bangkok airport we drove to a large Tesco in Chantaburi. There we proceeded to do a weeks worth of food shopping, before we drove to the charter base on Koh Chang. We were given a short map briefing by Phil from Gulf Charter and a quick run-through of the boat before we cast off and were on our way.
It took us just about two hours to get to our first anchorage in a sheltered cove between Koh Mak and Koh Kham. We dropped anchor and went for a swim. The water temperature was amazing and it was a true pleasure to dive down and check that the anchor had set properly (which it had). Afterwards Steffi made a great chicken and mushroom dinner. We enjoyed the rest of the evening chilling with a few drinks and some soothing music.
We kicked off the next day with a hearty breakfast before we lifted anchor and set sail for Koh Kood (also known as Koh Kut). Our destination was a bay called Ao Chek Ki. We enjoyed 5 hours of awesome sailing to get down there. The wind was pretty much on the nose the whole time, but with very little swell, we had no problem to hold a good course. In the end we did tack a few times, just to toss it up a bit. We dropped anchor about an hour before dark and as the bay also contains a 5-star resort (called Captain Hook), we decided to take the dinghy ashore to look around. The resort looked excellent and though the restaurant looked inviting, we had so much food on the boat that we decided to have a drink at the bar while enjoying the sunset and then return to the boat for dinner. The sunset was spectacular, as was the dinner Steffi prepared.
The next day we hoisted anchor after yet another delicious breakfast. We set sail for Ao Ban Bang Bao which was about an hour away. We had gotten horribly sunburnt the day before, so instead of soaking up the rays, we did our best to hide underneath the bimini. Bang Bao was another nicely sheltered cove where we could chill and enjoy ourselves. Lunch was made on the BBQ grill suspended off the pushpit. Once I got it fired up it was incredibly efficient and promptly burnt the first batch of sausages to crisp. Having learned my lesson the next batch both looked and tasted better. There were two nice resorts on the beach and like the day before we went ashore for a stroll and enjoyed a drink at the nicer looking resort, before we returned to eat dinner on the boat. The sheltered cove got hit by a cross-swell, making the boat rock from gunwale to gunwale. The problem was solved by using the dinghy to drop a fortress anchor off the stern, pulling the boat towards it, so that the bow faced the waves. It worked well and we could enjoy ourselves again.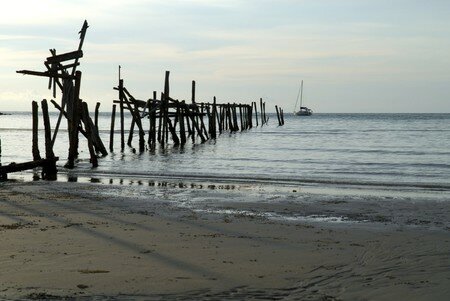 The next morning I topped off the tank on the dinghy before we took it to go exploring. Our destination was the Khlong Chao water fall. We didn't bring the map, so before finding the right river, we went up a small river and had a look around. The propeller got fouled by a line, but it was luckily easy to fix. After a look around in some tight mangroves we headed back out into the bay and found the right river (This little detour caused us some problems later). We went up the "right" river for about 30 minutes before we had to tie up the dinghy and continue on foot. The walk to the waterfall was nice, even though the heat was oppressive. When we got to the waterfall we discovered that since we're here at the end of the dry-season, the waterfall had in deed dried up. I'm sure it looks more magical in the rainy season. We certainly had no problems to imagine that it would look nicer then. Once back on the dinghy we headed down the river and made a stop at Ao Khong Chao, possibly the nicest beach on the entire island. A golden retriever puppy wanted to become our ship dog and it even followed us into the water when we headed back towards the sailboat. We were about halfway back when the engine stopped … Our little detour up the wrong river came back to haunt us. We were out of gas. Luckily we had good oars and a solid 45 minutes later we were back on board. We lifted anchors and set sail. After about an hour we passed the tip of Koh Kood which also marks the south-eastern most point of Thailand, before continued North again and headed in to Ao Yai.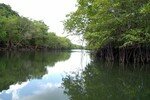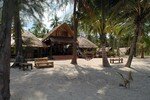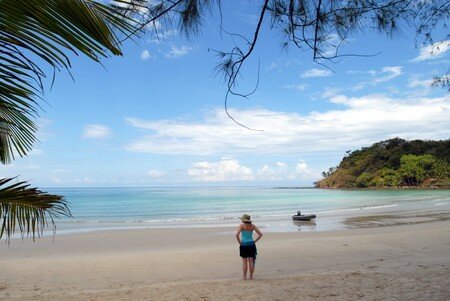 Ao Yai was a small fishing village, with a handful of fishing boats. We dropped anchor and chilled on the boat till the evening, when we headed ashore on the dinghy to eat an excellent fish and scampi meal at the restaurant on the pier.
The next day was Steffi's birthday, so as is expected we enjoyed a great breakfast before we set sail for Koh Rayang. The wind was perfect again and as we cleared the north tip of Koh Kood we enjoyed excellent sailing. We dropped anchor and went for a refreshing swim. After a tasty omelet I gave Steffi her birthday present: an Ipod Shuffle already charged and loaded with some of my best music … no Satyricon … I swear! Right before sunset we went ashore on Koh Rayang and chilled on a secluded beach. It was top notch!
The next day we got a bit of a surprise. We had just pulled up the anchor when the engine alarm sounded and the engine stopped. Instead of dropping the anchor again, we hoisted the sail and sailed towards Koh Mak. A bit of troubleshooting did not give any answers. I assumed the propeller was fouled, or that a plastic bag had jammed the engine water-intake. In any case there were no tools onboard, so there was little I could do except phone the charter company. While we enjoyed a slow sail to Koh Mak, the charter Company sent a boat with a mechanic to meet us when dropped anchor. We anchored pretty much exactly where we had anchored the first night. This was the first time I dropped anchor without the aid of engines; it worked flawlessly.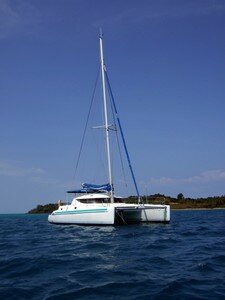 The anchor set and while we were eating dinner, the mechanic showed up. He had sailed down on a Fountaine Pajot Athena 38 (a catamaran). He immediately went to work on the engine and figuring that it would take some time, we headed over to the Athena to have a look around. I was VERY impressed by what I saw. I was so impressed, that I decided to find out more about the feasibility of doing my circumnavigation on a catamaran (more about that on my sailing blog). The mechanic found the problem: The fuel filter was clogged. Not our fault, so that was good. After he had departed, we enjoyed a leisurely walk on the beach on Koh Mak, before we shot over to Koh Kham to eat a sensational fish and calamari dinner. We ended up spending a few hours, drinking a number of beers, together with a friendly Swedish couple that were chilling at the resort.
It was a sad realization the next morning that we had just spent our last night on board. We ate breakfast and set sail for the Charter Base on Koh Chang. We were in before lunch and after a short debrief, we were on our way back to Bangkok by taxi and bus.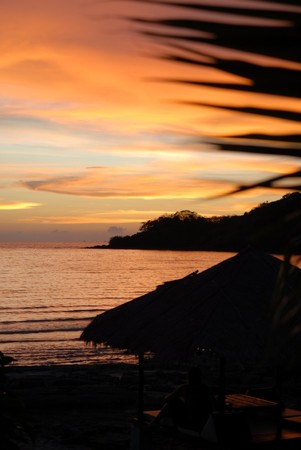 It had been an awesome sailing trip. Steffi was a sailing convert and all things were groovy. I did have one more surprise up my sleeve for Steffi, but she didn't get that one before we got to Bangkok.