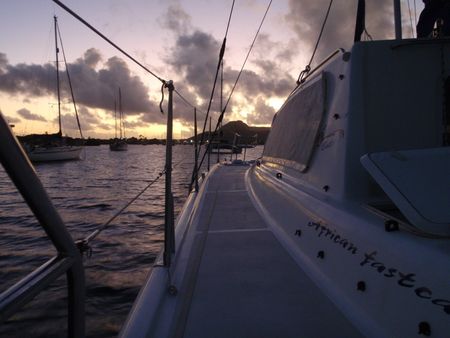 I enjoyed my last night alone onboard, before the next day started flat out. I had Claudia joining later in the day and had some things to take care of first, because the following day I would leave Curacao with a charter going to Bonaire and the plan was not to return until after I'd been to Grenada.
My charter guests for the trip to Bonaire were Hans and Dayenne (a super nice couple I knew from Aruba), together with his mother, a friend of his mother and Reggie (the man running things for Hans' company on Curacao).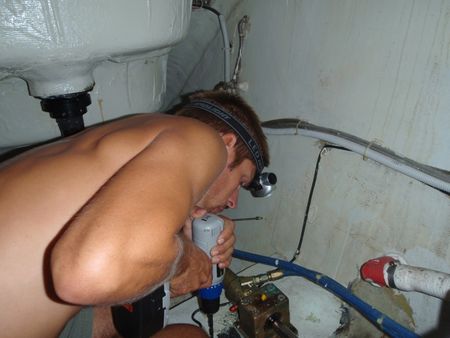 I finished off some work on the boat, before Reggie drove Keld and I to the airport to pick up Claudia. It ended up being a hilarious wait, because Keld shared his view of different boat owners. Halberg Rassy owners coming out in a very unflattering light.
Claudia has been a super help since the second she stepped onboard. The boat has needed a woman's touch for quite some time and things are already looking up.
The rest of the day vanished in various projects, before we went to happy hour with Keld.
The following morning was flat out cleaning the boat and getting ready for the mini-charter. We were just about ready when they got here, but Andy (the dinghy repair man) had not returned my dinghy, so Westa had to assist in ferrying them out to me. I then went with Reggie and checked everyone out of Curacao, before at 2pm we were finally assembled onboard. Andy returned my dinghy and he had done an awesome job. The dinghy is sturdy, light and she looks nice, so I'm very happy. He delivered what promised, so I can warmly recommend Andy Carter "the fiberglass man" on Curacao to anyone.
We set sail around 3 pm and due to darkness falling only made our way to Klein Curacao and spent the night there, before we started early the next day and had an awesome sail to Bonaire.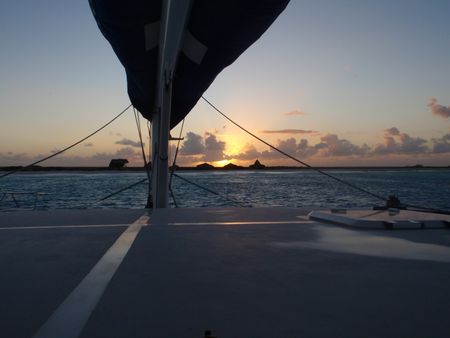 On Bonaire we enjoyed a meal in the evening at It Rains Fishes. This was my third meal there and it didn't disappoint. Everyone was very happy.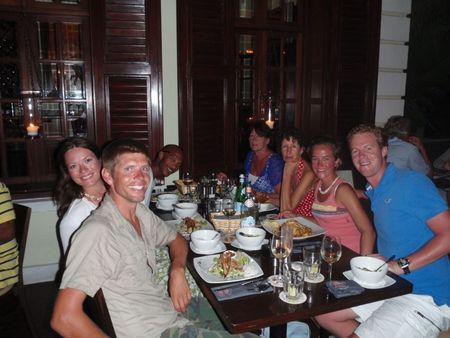 The next day we went exploring the island, looking at the salt flats and hanging out on the windsurfers beach.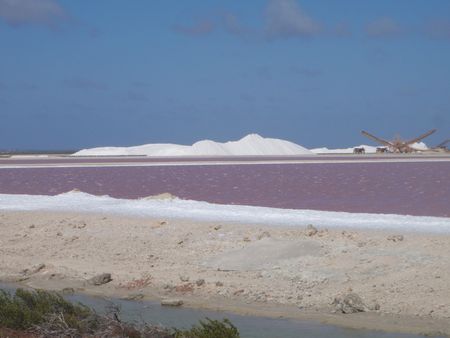 They left on the Monday and flew back to Aruba and Curacao after a very nice mini-charter. I hope to see Hans and Dayenne on my deck in the near future.
The next two days were spent fixing the autopilot and fingers crossed it now works. I haven't been able to do proper sea trials, but after buying a new rudder indicator arm and switching out the hydraulic pump and bleeding the system it no longer throws the warning it did before and it was able to hold a course. Hopefully everything is groovy. I was proud to have fixed it without anyone elses help.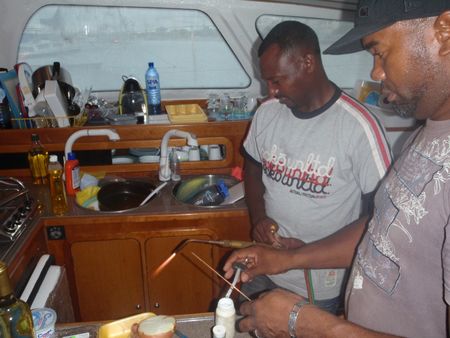 I also got a fridge mechanic onboard. He came onboard to just refill gas, but ended up fixing the leak and now my fridge should be 100%. Judging by the amp draw it is doing infinitely better than before. Fixing the hole wasn't as straight forward as you would think and he needed 2 other guys and a welding machine onboard, but in the end everything is good.
We were supposed to sail with Westa and Ian to Las Aves, but we ran out of time and were unable to shop before the stores closed, so we postponed a day, while they sailed there.
Instead we enjoyed a very nice meal in the evening, celebrating a working fridge and a fully operational autopilot. It warranted digging into the wine cellar for a nice bottle of red.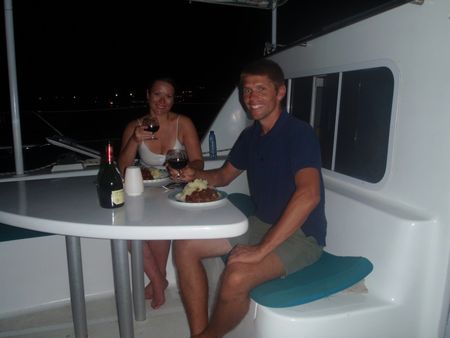 The plan is to cast off at around 6pm tonight, to do a night sail to Las Aves. It's ony about 35 nm over there, but with the wind on the nose it will easily be twice that with the tacking we'll need to do. The plan is to arrive tomorrow morning and enjoy those reefs and islands for a couple of days, before we sail on to La Blanquilla and finally Los Testigos, before we sail to Grenada. The aim is to be there at the end of the month. The next charter is starting on Feb. 3rd, so I have a bit of a buffer.
This is the last update before I get to Grenada, because there is nothing along the islands we sail on … not even grocery stores, so we need to provision for the whole trip here on Bonaire. You should be able to track where I am by having a look at this site: SpotAdventures.
I gotta run … paradise is calling.