With no small amount of nervousness I stepped onto the tarmac at
Schipol and made my way to the bus to the terminal. Contrary to what
you might expect when you're going to your new home, I had very little luggage with me. A small backpack and 2 waterproof bags contained all the things I deemed essential. I was met by Gideon Goudsmit, the owner of the company African Cats and co-designer (together with Angelo Lavranos) and previous owner of my new home and sailboat: African Innovation.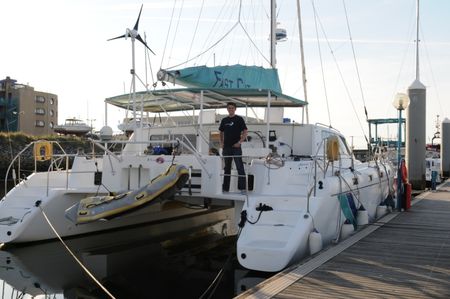 When I came to the Netherlands I didn't really have a plan of what to do next, except get the boat ready and sail home to Norway. My plan was to spend a year in Norway to sail, get the boat ready and most importantly me ready for a 3 – 5 year circumnavigation. I would also need to save up quite a bit of extra money, because I spent a lot more than my budget allowed to when I bought the boat and since I no longer had a girlfriend to share the expenses with, … well I would need to work hard.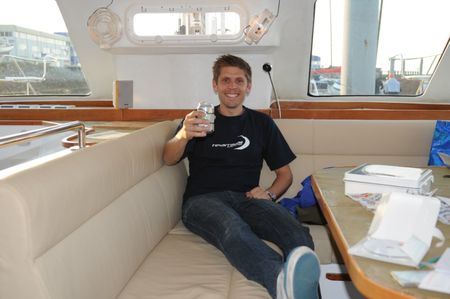 It's funny that when I look back on the month and a half I spent in the marina working on the boat I can't really figure out how I could spend so much time achieving so little. Truth be told I spent a lot of time waiting. Waiting for Gideon, waiting for parts, waiting for different people and working on things the old way: learning by trial and error. No way is better to learn if you have time … and I did.
To those of you interested in sailing stuff: I basically started out by cleaning the boat from top to bottom and used that as a chance to get to know the boat properly. It also allowed me to test and learn how everything worked or in some cases how things didn't work. First of all, here's a list of things I installed: A Seabreeze Windgenerator, 2 x 215 Sanyo solar panels with a charger, 1000 ah house battery bank, 80 ah starting battery, 6 solar vents (1 in each cabin and head and 2 in the salon), handrails above the front windows, a 5,5 K Webasto heater, a new water pump, plus some small stuff. I repaired a few things here and there and made some small improvements, a new socket here, some drain holes there, fixed some wiring here, got the sails mended there, etc.
I also became a master baker …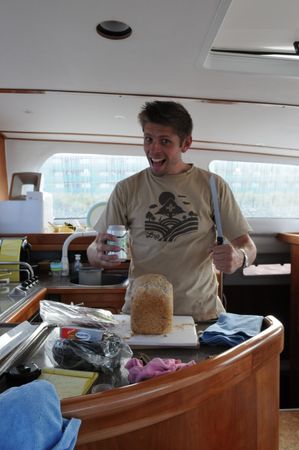 … Thanks to my breadmaking machine. I LOVE it!
I met a lot of great people that worked on my boat from Jan the electrician whom I really bonded with because we shared an interest in Black Metal to …Rob, who spent an amazing amount of time installing my solar panels, to Patrick the sailmaker who hates Germans and charges them double of what he charges anyone else. Interesting people that made my stay more pleasant and helped get my boat ready to leave.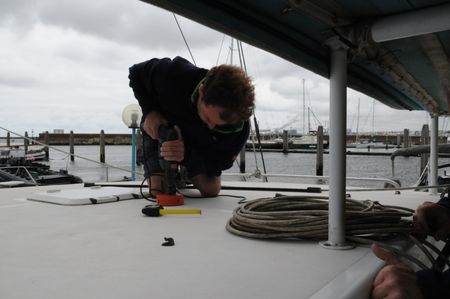 Towards the end of my stay my sister from Beijing, Tine, brought champagne and popped by for a visit. What better way to share a bottle of champagne than to do it on the deck of a beautiful catamaran … well, sunshine and a warm temperature would have been nice, but we made do with what nature served us.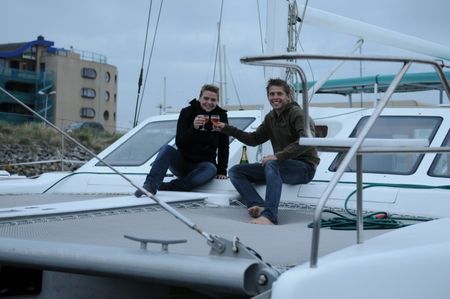 My last week in IJmuiden was jam-packed with the last minute stuff, mostly things I hadn't already finished or things that had popped up along the way. I would probably have stayed another month if my buddy Frode hadn't showed up to help me out. He came to help me sail the boat home, but as he is an incredibly handy guy to have around, I immediately put him to work. We were able to enjoy a drink or two (or three) along the way and had a great time. On the final day, Torstein showed up and all we could do was do the last bit of shopping before we could set off.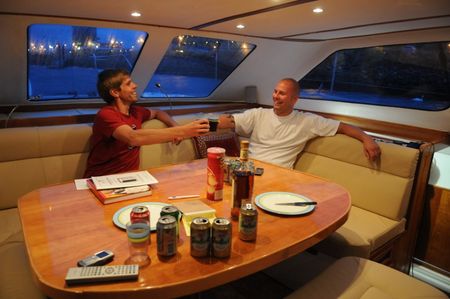 How was my stay in IJmuiden? In one word: Excellent. Made so almost entirely because of Gideon. I know I've made a friend for life. He was incredibly helpful and forthcoming and he really made the stay everything I had hoped, only better. I can't wait to go back!