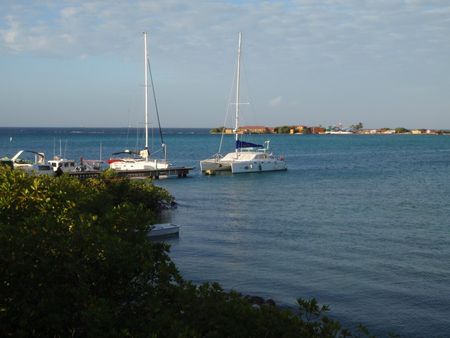 African Innovation is fully operational again. But I get ahead of myself. I also realize that on the picture above I'm tied up to the dock, so while I'm not mobile per say, I have the potential to be mobile, or said in a different way: I could be mobile if I wanted to be.
On Monday we were lifted back back on water. On Tuesday I started working on getting all systems ready, so that I can go to Curacao to start my charter on December 16th. My main obstacles were: a) a broken clutch, that needed to be replaced and b) a windless that didn't work properly. Without both engines working it'll be very tough to go to Curacao, because the trip from Aruba to Curacao is against the wind, waves and a 3 knot current. So, I really need to have both engines working if I want to get there this side of New Year's Eve.
The reason I'm huffing and puffing is that it's damned warm (I hadn't opened all hatches yet, to get proper ventilation). I'm also disappointed that you can' hear "Master of Puppets" playing loudly in the background, but such is life with these small camera microphones. Though I said that I was switching out the clutch, what happened in reality is that an Arubian mechanic named Clifford Rosa came and did it, with me watching his every move.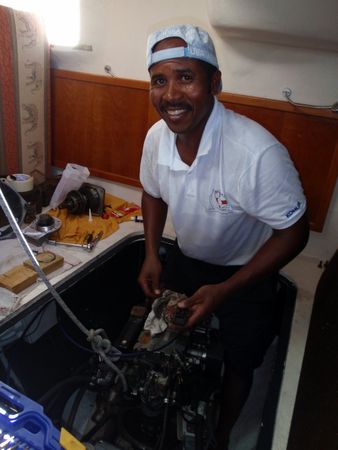 Clifford did an awesome job at a very reasonable price. He worked on the clutch on both Tuesday and Wednesday. What was supposed to be a simple swap-job ended up being a relatively comprehensive switch-out-the-components-job, but the good thing is that I know know how the inside of the clutch looks and know how to replace the different parts. So all is good. I was also very happy to have a 30 hp engine, because we needed to lift it back to work on the clutch. If I had a bigger engine it would not have been as easy. Our only surprise was that when the clutch was switched out, the engine wouldn't start. These problems weren't linked, but it was a bit of a pain after so much work had been spent getting the clutch sorted. I felt very international getting advice from Gideon in South Africa and having Clifford help me here. Between the three of us we got the engine running again and she is now purring like a kitten (much like the other engine), so now all is good. Another sensational thing is that I also got my Windless to work in both directions, so now I can anchor without problems. I say this in a quick sentence, but believe you me, hours was spent getting the problem sorted.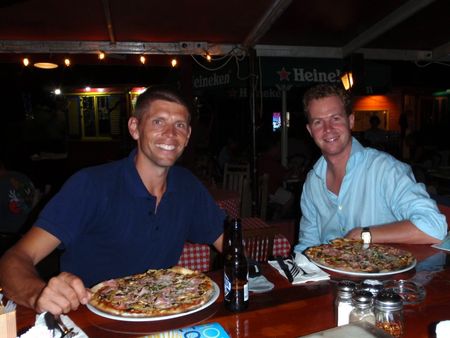 Last evening I met up with Hans and headed over to the Hotel district to enjoy some sensational pizza. It was a nice break from the tasty fresh fish soup I eat every evening at the marina. Hans is a great guy and if it works out, he'll hook me up with some fishing gear, so that I can fish local style, hunting the seas for Tuna and other tasty treats. The cool thing is that Hans will be in Curacao next week, so we can hang out before I start the charter on the 16th.
Tomorrow I need to hoist my mainsail, clean the boat and go provisioning, because if all goes as planned, I'll be heading for Curacao on Saturday … or Sunday. We'll see. I need to look at a forecast to see when the wind is most favorable … unfortunately favorable here, means as little wind as possible, because it will be on the nose the whole trip to Curacao.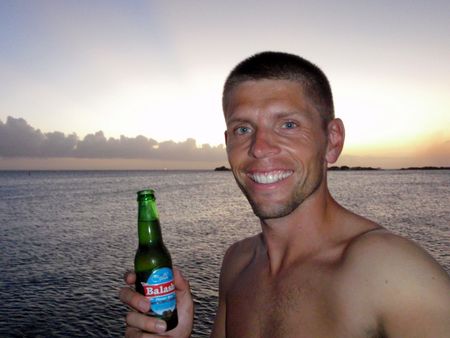 The only correct thing to do after a day like today is grab a beer and enjoy the sunset … which I did. Sorry that I am shirtless yet again, but it's just too warm to be wearing clothes T-shirts.