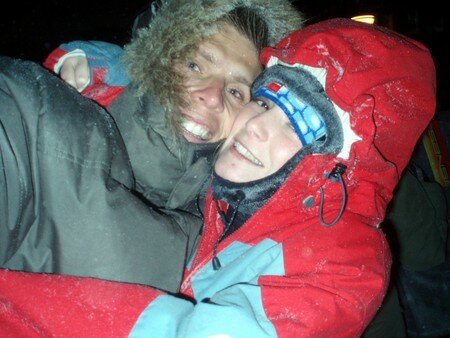 After a very enjoyable time in Austria it was time to head to Norway for a quick tour of the country. Steffie and me had quite an itinerary ahead of us for the weeklong stay. The fun started in the Oslo airport; we met Stein (childhood friend, currently working in London as a cinematographer) who landed 15 minutes after us.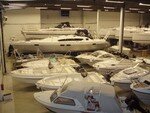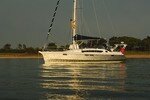 After the obligatory round of hugs, we headed straight to Asker with the AirportExpressTrain, where we were picked up by Gunn a broker with Lange Maritime. She took us to their hangar filled with boats, amongst them a brand spanking new Ovni 395. It was love at first sight. This is the kind of boat I'll be sailing around in come 2010. We spent a good hour looking at the boat, before we were dropped off at the train station and headed in to Oslo.
We were met at Oslo central station by my cousin, Christer, who drove us back to his flat. There he proceeded to treat us to a great pasta meal with a fine bottle of red wine. While we were eating, Torstein, (the guy I went to Tibet with) showed up. I hadn't seen him since July, so it was great to catch up. We headed down to a pub at Grunerløkka, ironically the same pub that I was drunk out of the country from, before I went to Australia to go to filmschool. We enjoyed a few beers, played some darts and pool, before we headed back to Christer's flat and crashed. It had been a long day for all of us.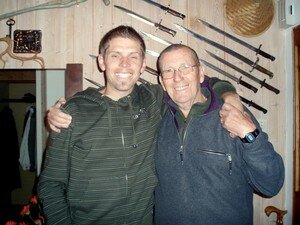 Early the next morning we took a bus out to the airport and caught one of the first flights to Stavanger. We took a bus to Madla, where my aunt Annicken picked us up and drove us to my grandfather Armand's house. It was great to see him again and catch up, even if it had only been 3 weeks since I saw him in the Caribbean.
Since my father was still in the Caribbean, we had his apartment to ourselves. After getting set up there, we headed into town on a little walk-about. It was nice to see Old Stavanger again and walk around in the shopping streets with no cars.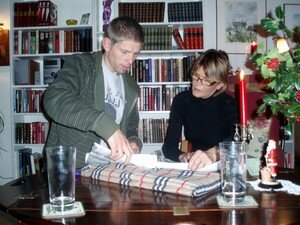 Living in Beijing you get used to being surrounded by a constant traffic of cars and people, not so in Stavanger. At 4 pm we went to my mother and ate a delicious pinnekjøtt meal – traditional Christmas food from my part of the country. Afterwards we celebrated a mini-Christmas, because I had brought gifts for my mom and she in turn had a stack of good books for me. In the evening we met Peri, because he was graciously letting us borrow his parents car. They were away and awesome as they are had agreed to let me borrow it. We were relatively early in bed, because we wanted to get up early the next day to take advantage of having the car.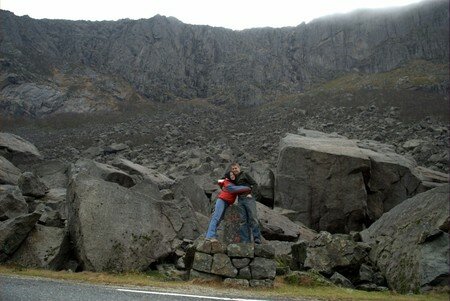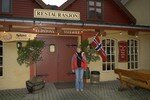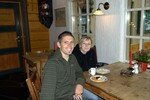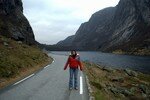 Our first stop the next morning was Byrkjedal. We had a look at the candle factory and enjoyed a mini-breakfast consisting of a lapp and a lefse: Delicious. This was followed by a drive through Gloppedalsura, and then down to the beaches. Most people don't think that Norway has nice sandy beaches, but we do, we have 100's of kilometers of them. We stopped at Bore and went for a nice walk in the surf, or as was the case this day, the lack of surf. The beach visit was followed by a drive to the islands outside Stavanger, where my father is building his new house. The islands are connected by underwater tunnels, so getting there is both easy and fast. After a quick look around there we headed back in to Stavanger and hung out with my grandfather for a little while before we went and had a staple Norwegian meal: Dolly Dimples.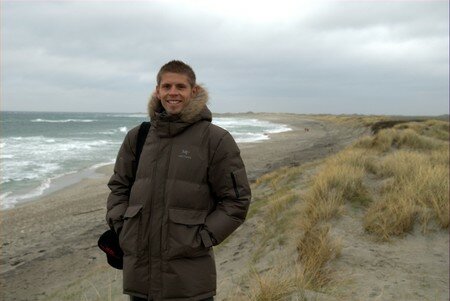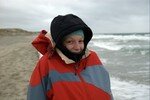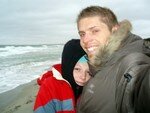 After dinner it was time for a party, but first we needed to prepare. My father's apartment wasn't too warm, so Steffie and me carried my father's expensive living room chairs into the warmest room and enjoyed a nice glass of red-wine: the warmest room being the bathroom.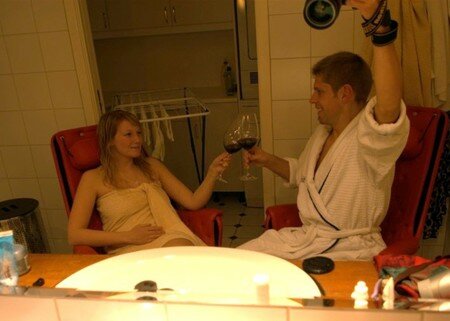 Espen, a buddy of mine, and his girlfriend Irene were throwing a party where all my friends would be, so after getting ready we crossed the bridge and joined in on the fun. It was great to hang out with everyone. Glenn showed bad form and showed up with a Christmas present. Not having anything for him … I felt like an idiot. It was good to hear that he had done the same to everyone else and had not received anything from them either. I guess he can only look forward to next year when everyone repays the kindness. Steffie and me snuck away for a little while to go up on the loft, where I have all my things stashed. I showed her some of the things I have laying up there and even took the time to play her a little tune on my guitar. The party lasted in to the early hours and was a nice way to say farewell to Stavanger, because the next morning we were off to Finse.
We were a little bit worried when we showed up at the boat terminal, because there was reportedly a storm blowing exactly on the route we were going to Bergen. It worked out OK, because we were taken off the boat and driven in a bus on the worst stretch, along Haugesund.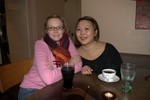 Steffie found out that being hung-over and eating shrimp cocktail sandwiches doesn't mix well with big waves. She was a bit green and didn't really feel well until we got to Finse. In Bergen we made the transfer from the boat to a train, but had time to spend a a nice hour with Benedicte, who kindly bought us a cup of coffee. It was really nice to see her again in Norway, last time we saw her was in Beijing in the summer. She will soon be on her way to work in South Africa for 6 months, so I felt quite jealous.
The train ride to Finse is one of the nicest ones in Norway, unfortunately it was pitch black outside when we went, so we couldn't see anything. We did notice that the closer we got to Finse, the more snow covered the ground. I have to mention that the only way to get to Finse is either by train or by ski. In the summer you can also walk or bike there, but it is impossible to get there by car or bus.
Stepping off the train at Finse station felt great … and very cold. There was quite a lot of wind and it was snowing heavily. We headed in to the hotel lobby and waited there until my brother came running down from the ski-lift. He got us kitted out with proper winter gear. I borrowed clothes from him and Steffie from his girlfriend Judith. We headed up into the slope and hung out there. Several of Martin's good friends were there: Joachim, Tonje, Tine, Trond, Knut, Ozzy. In short a group of people that would make the stay very memorable.
For those of you that don't know this Finse is where they filmed the snow scenes for the beginning of Star Wars: The Empire Strikes Back. Finse is also where the people that go to both the Arctic or Antarctic come to prepare, because nature is a bit unforgiving at Finse. I love it. As a side not I can say that my family has quite a history with the place: My grandfather met my grandmother up there, so if it wasn't for Finse … well, I wouldn't be here today!
We spent the first evening chilling out in my brother's apartment that we shared with him, Judith, Joachim, Tonje, Tine and Trond. The more the merrier. The next day was the famous New Years ski jumping competition. I busied myself with my camera and took a ton of pictures, while others jumped to fame and glory. In the end Torbjørn a friend of mine from the Naval University jumped furthest. I still think that the coolest jumper was Mr. 80's himself, a co-worker of my brother.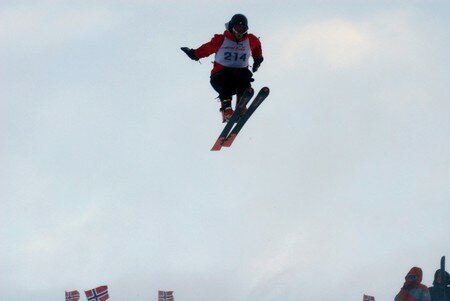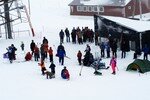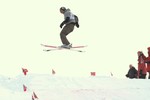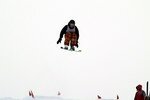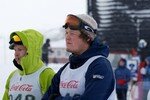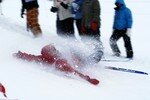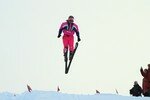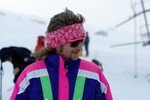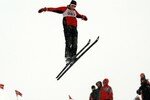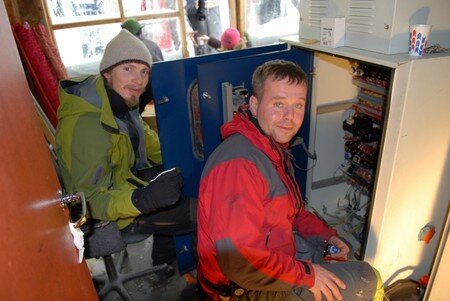 In the evening everyone dressed up in their finest clothes and headed over to the hotel. I used the chance to take some portrait pictures. I didn't know it then, but amongst the people there was actually also Norway's richest man: Olav Thon, though truth be told, I didn't hang out much with him … we didn't have that much to talk about 😉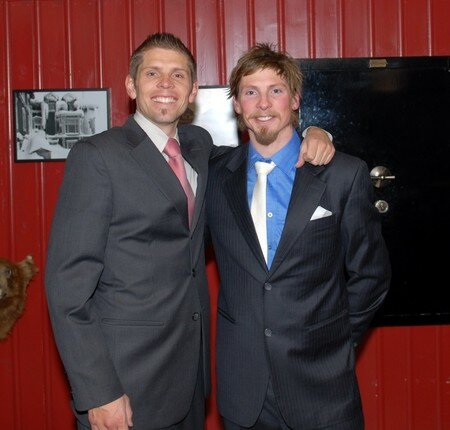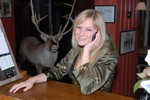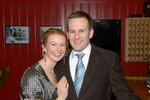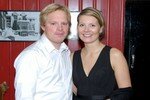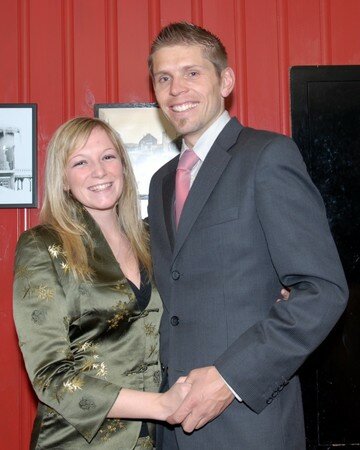 Dinner was awesome. Due to a large intake of wine, I don't remember what we ate, but it filled me up nicely and since everyone was smiling and happy, it must have been great. After dinner we headed to the bar and enjoyed a few more drinks, before we put on our jackets and headed out to watch the fireworks in a blizzard. It was so windy and snowy that it took them 25 minutes to find and get the fireworks into the air. It felt nice and extreme. After yet some more drinks in the bar, we retired to my brother's apartment for even more drinks. It was an excellent evening in all regards.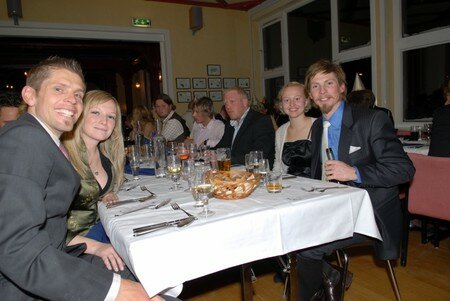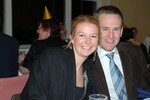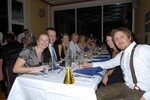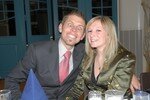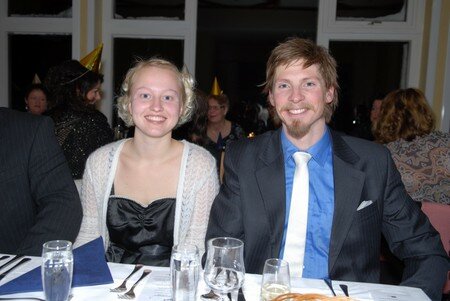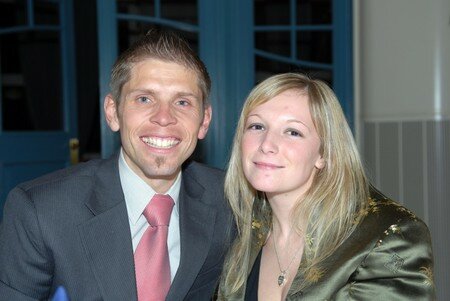 The next day most people headed back home. This meant that we finally had a chance to have my brother to ourselves. He had been running around like a mad man on the days leading up to New Years, so we had hardly seen him. It was good to finally catch up. He also took us ski sailing. Now it's tough to tell from the pictures, just how bad the weather was, but let's just say, if it hadn't been for the fact that he knew it was us, my brother never would have taken people ski sailing. It was tough, but a lot of fun … I'm looking forward to doing it again.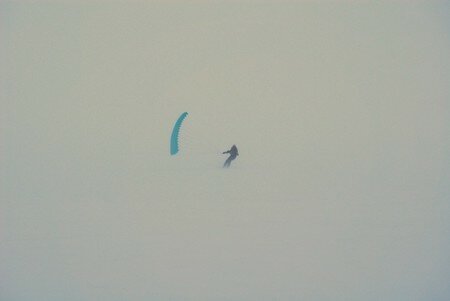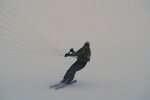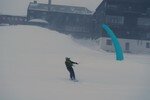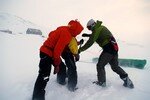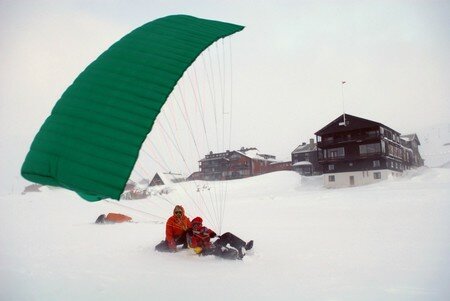 Unfortunately the two days after New Years passed all too quickly and before we knew it, it was time to leave. After sad goodbyes, Steffie and me took the train to Oslo and boarded the plane to Munich. In Munich she headed back to Austria, while I continued back to Beijing. It was REALLY sad to part ways, but we had agreed that she would come and visit in March, so that's less time apart than last time, so it'll be OK. The most important thing is that the trip to Norway had been truly sensational and we are hungry for more adventures together.