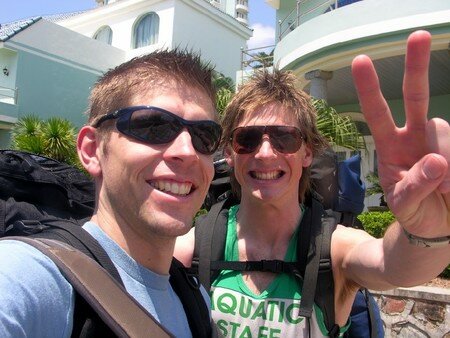 SAS gave me a good Christmas present this year … well … indirectly at least. During December they had a Christmas calendar where they sold a new destination at rock bottom prices every day. The result was that my brother, Martin, was able to secure a ticket to Beijing. He had 2 weeks here in March and we were determined to make them memorable.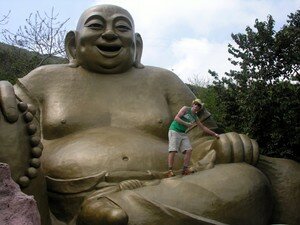 The plan was simple: Get to know Beijing, see the Great Wall and then head down south to enjoy some sun and beach in Sanya, the southernmost city in China on the Island Hainan. Hainan is known as the Hawaii of China.
2 days after Martin arrived we boarded the plane and headed to Sanya. In order to save money on the flight we flew in to Haikou and grabbed a bus to Sanya. The arrangement worked well and we also got cheap sight seeing from the break-neck drive between the two cities.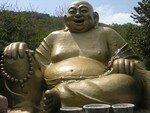 In Sanya we had booked in to a nice hotel with three pools and the works. It was super nice. We immediately set out to conquer the pools and the beach. To our surprise it was almost deserted, this despite the fact that Sanya is a popular tourist destination, especially during the cold months. As it turned out it's due to a few simple facts. The Chinese hate getting tanned, because they relate being tanned to being poor.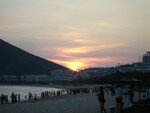 To them a tan indicates that you work outside in the fields or worse. It is also considered beautiful to be very white … goths and black metal people would be very popular down here. Another reaon is that when they go traveling they go to see the sights, not to lounge by the pool or hang out on the beach. As a result we could have fun without upsetting people. It all changed at sunset, then the Chinese came out of the woodwork, crowding to the beach. By then we were burnt to crisps anyway, so we didn't mind.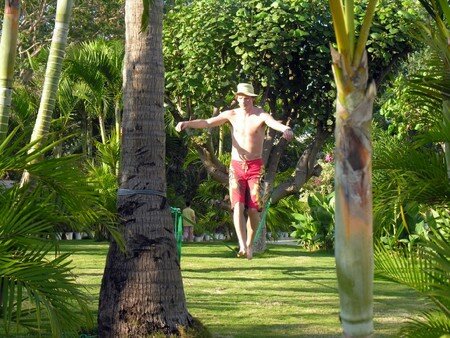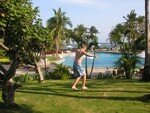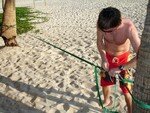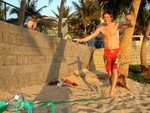 Martin had brought his tightrope or loose line as he calls it with him. I was determined to learn it and with a lot of tutoring and patience from him I actually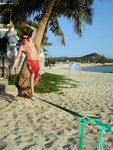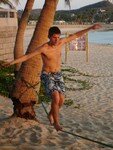 did. It was a lot of fun. By the time we left I could walk on it, turn and even walk backwards. I was by no means good, but I think I was entertaining to any onlookers. Where my brother entertained with his skill, I made people laugh when I fell, face first into the sand. I was surprised at how quickly I progressed though my brother excelled when he pulled out his juggling balls and really showed off. I know it'll be a long time before I try that, as I struggle to juggle even when I have two feet planted firmly on the ground.
We also enjoyed the cuisine Sanya had to offer. Our favorite place was an outside restaurant where you pointed at whatever you wanted and then they BBQ'ed it right in front of you. Fresh and tasty. In the evenings we didn't really go out and party, we opted to have a few drinks at a bar around the corner from our hotel. We especially enjoyed White Russians … the drink … Though truth be told there were a lot of Russians there, apparently this is one of the cheap places they go on vacation. Later in the evenings we retired to our room and enjoyed beers, drinks and cigars on our terrace. All in all it was very enjoyable.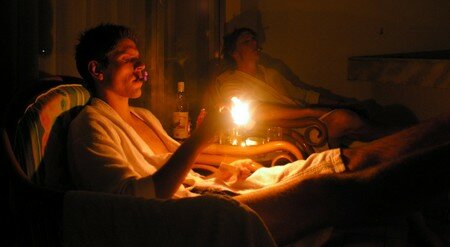 Though we enjoyed being lazy by the pool, we decided to go exploring. What better way to do it than on a scooter? … We could both think of a few better ways, when one of the scooters broke down after 15 minutes, but instead of wasting much time on it, we drove back to the shop, got a new scooter and got our rent-time extended longer than we had paid for. We then proceeded to zip around getting acquainted with Sanya and its surroundings. We even went to the place that graces the back of the 2 yuan note (Chinese currency).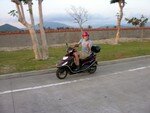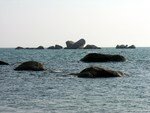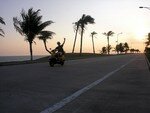 We agreed that driving around on scooters was fun, but a car would be better, so on our last day on the island we rented a car and drove around. Our first destination was Monkey Island: a safe habitat for a large family of monkeys. To get there we took an exciting cable car ride across a narrow inlet above fish farms. We then walked around looking at the monkeys and even saw the obligatory show where monkeys do tricks and stunts.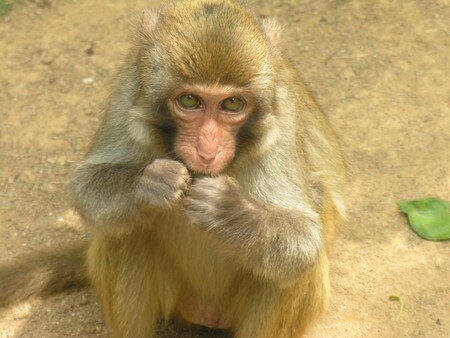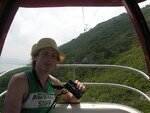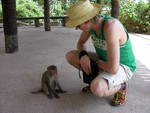 We enjoyed it and after spending a few hours there headed back to the mainland and drove on. We sped into the mountains to enjoy the serene landscape, before we headed back to Sanya. We stopped by Yalong bay … a luxury resort area that blew us away. The resorts there were some of the most beautiful we've ever seen. It definitely had honeymoon potential.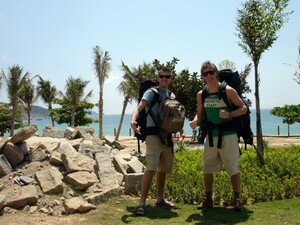 We started running out of time, so we shot back into town to pick up Mark, the guy we rented the car from. He drove us to the airport and off we went.
Sanya was a really nice place and I still seriously contemplate making it my winter home. In the summer it's too warm there, but in the winter … perfect! We'll see!