What's missing from this trolley?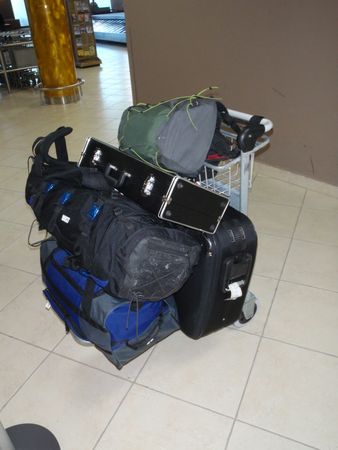 Answer: Petar's backpack (The one in the picture is mine).
So Petar spent his first exciting hour on Aruba filling out a lost luggage report.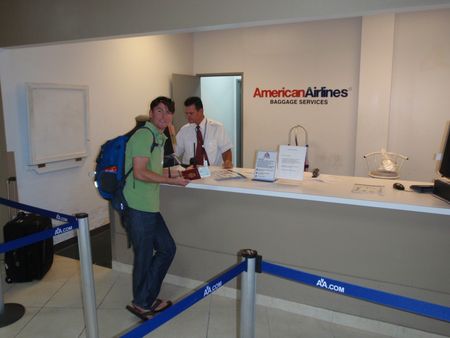 Having overcome that hurdle, we jumped into an incredibly overpriced taxi to Aruba Nautical Club and I could finally lay my eyes and hands on my sweet boat for the first time since May. It was a fantastic moment.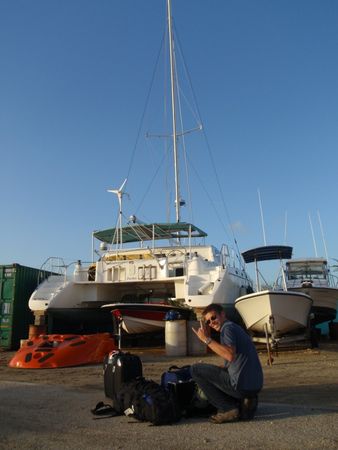 Note that someone parked their boat underneath mine, using it like some ordinary garage. Cheeky bastards, I should charge them.
There's no doubt a long list of things we should have done when we got onboard, like clean the boat, unpack, get settled in and all of that … We did the only correct thing (if you nodded in approval to the abovementioned things, you are wrong according to 90% 100% of the people on African Innovation) … we drank Rum … mixed with a sprinkle of coke (please disregard the water bottle on the table).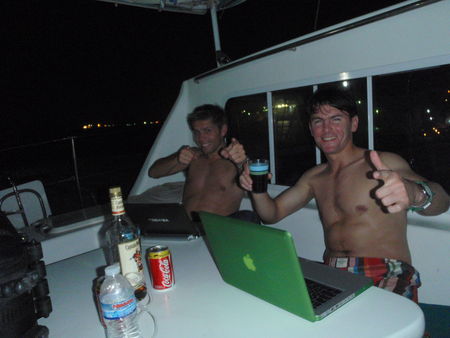 As you can tell we were charging up on Captain Morgan while playing cyber pirates. Oh, one thing: If my computer looks tiny, it has nothing to do with perspective (well, maybe a bit, but) my computer is tiny. Unlike "others" I don't need to compensate … My tiny computer can rock it out for hours on end (much like its owner), while Petar had to go searching for a socket to re-juice his Mac. He found it under a light pole, much to my amusement.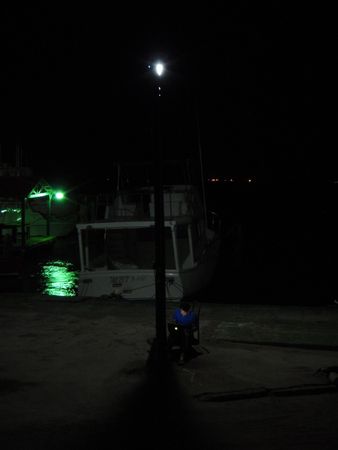 The next morning we started bright and early, rented a car from the cheapest dealer on the Aruba: $175 for a week. Not bad to be honest. We are now cruising around in style in an early 90's Chevy Cavalier. The first order of the day was to stop by East Wind Marine Services to pick up 5 gallons of Seahawk Islands 44, so that we can put some anti-fouling on the boat that actually works in warm climates. While picking up the Islands 44 we were told why we had heard sirens at
7am this morning. A 10 year old girl was killed while waiting for the
schoolbus. A car tried to pass a car, lost control, rolled and killed
the poor girl … incidentally the driver was also killed. We talked about it afterwards and agreed that you never know when something like this could happen, so it's very important to live now while you can.
Moving away from deep thoughts: The rest of the day revolved around getting various painting and sanding supplies, so that we can prepare the hull for the anti-fouling. In the evening we hit the night life and quickly discovered that a Friday night in Oranjestad (the capital of Aruba) SUCKS. So we headed out to the area by the hotels. This area had much more to offer and we spent an enjoyable evening watching people drool over 2 scantly clad, what to me looked like Russian prostitutes (I hope they don't read this blog), promoting Hondas … Apparently that's Honda's grand marketing strategy here. Parading Russian hookers around their cars, playing loud music and flooding everything with bright lights … amazing.
The next morning we shot out and after 5 hours of searching got a hold of a high pressure washer, that we immediately went to work with on the hull.
My camera and I really appreciated that little deluge. In terms of swim-wear worn onboard, everything is allowed, as seen by the eastern European and Italian speedo look, sported by Petar. It's very brave … alas not for me.
Who said that cleaning couldn't be fun?
We only rented the pressure washer for 4 hours, so it sounded like a bad joke, when I told Petar that I couldn't find the car keys when we really needed to hit the road in order to avoid penalties. I went through, my pockets nine times, searched the cockpit, the salon, searched my pockets again, looked around the boat, did some thinking and finally realized where I'd dropped them: In the ocean, when I went swimming. With no time to spear I put on my freediving fins, grabbed my mask, shuffled backwards into the water and went hunting for me keys in a HUGE lagoon. To my immense surprise I found them … so we were able to return the washer with only minutes to spare. So from now on ALL keys go on a floater key-ring, no exceptions … Can't have this happen again (as we say in Norwegian: fadese).
Now the hull is nice and clean, and ready to be sanded. We will start with this task at the crack of noon when our hang-over fades, because now it is time to hit the nightlife yet again.