Chinese New Year presented us with a great chance to go traveling. Since most Chinese are busy clogging the roads and railways in China, we decided to jump on a plane bound for the Philippines. After an overnight in Manila, we boarded a new plane and headed to Caticlan. We spent exactly 37 minutes in Caticlan before we boarded a boat for our final destination: Boracay.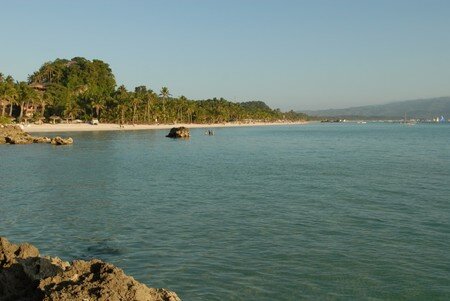 To explain Boracay: Beach … cocktails … beach … beer … beach … swimming … That's actually not a description of Boracay, but it's what we were doing. I was expecting Boracay to be this secluded island with hardly any
tourists, while those expectations were quickly shattered, it had a lot
of charm. We stayed in a sensational resort called Mika's Place, right
on the beach. Compared to what others were paying for their beach-front
hotels, ours was a bargain.
We reached Boracay just in time to celebrate my birthday, which we did with style. At least I think we did, because I can't remember it =)
Steffi was worried before we went to Boracay that I would get bored with staying in one place so long. She needn't have worried. I really enjoyed chilling out. We spent most of the time soaking up rays and swimming in the ocean. I can't explain how great it is to enjoy clean air and beautiful nature, when we're faced with Beijing on the a normal day. In the evenings we'd explore different places to eat and drink.
To tear up the monotony of chilling on the beach, we went on a snorkeling trip around the island, stopping at a couple of good dive spots. There were tons of colorful fish.
A highlight was when we rented a trimaran and went sailing for a half a day. We managed to get the biggest and fastest trimaran on the island, so we really enjoyed the sail.
2 weeks passed way too quickly. Before we knew we had to head back to the cold winter in Beijing. Boracay had been awesome and we went back with a a tan and freshly charged batteries.