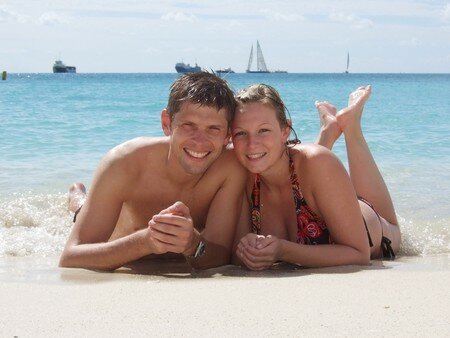 The first thing you feel when you land in Miami, in winter time, is that the temperature is perfect. Rasmus met me at the airport and took me home to his excellently situated apartment on South Beach. Though traveling from San Diego isn't exactly strenuous, I was tired, but always in the mood for a walk on South Beach, especially when I know that it involves pizza and a cold beer.
I spent the next three days looking at catamarans for the circumnavigation, but you can read all about that here.
Steffi arrived from Beijing late Friday evening and the next morning, we looked at my favorite catamarans, before we headed down to the Jewel of the Seas in Port Everglades, to set off on a sensational 8 day cruise.
The itinerary: Puerto Rico, St. Thomas, St. Maarten, Tortola and the Bahamas, with a couple of days at sea thrown into the mix.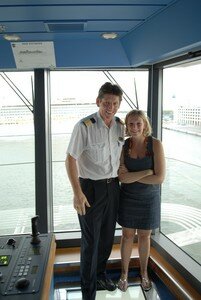 We started out by doing a bit of sight-seeing on the ship. Steffi was slightly overwhelmed, which was cool, because I got to relive the splendor of the cruise ships through her eyes. When we were about to set sail, we headed up to the bridge with my dad, so that we could do the sailaway in proper VIP fashion (we were the only passengers allowed on the bridge =)
We were so relaxed on the cruise that I forgot to take pictures. Luckily the shipboard photographers caught my slack, so we have some very nice portraits that I need to scan and upload.
Before we got to Puerto Rico we had a day at sea. We spent the day exploring the ship and lounging by the pool. We enjoyed some very refreshing daiquiris while basking in the sun. In the evening we got dressed up for the first formal night. Steffi looked like royalty in her newly tailored dress. After a nice aperitif in my dad's cabin we had a very nice meal in the dining room.
In Puerto Rico we explored the old city and the area around the fort. Steffi commented that the green grass around the fort is the greenest grass she's ever seen and I totally agree. After a day of walking around we met up with my dad in the evening for some nachos and beer at Maria's, a bar my dad has frequented for the last 20 years.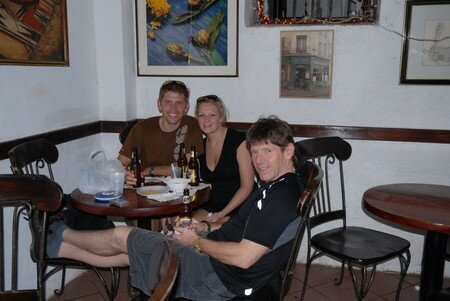 In St. Thomas we shot ashore as soon as the gangway touched the dock. We needed to get to the hospital to get our Yellow Fever shots before the jungle trip in Ecuador. The shot had kind of slipped our minds, but luckily St. Thomas came through. After getting jabbed in the arm, we browsed the shops at Havensight before we went on an exclusive sailing tour. Basically private captains take small groups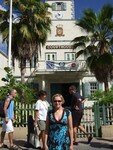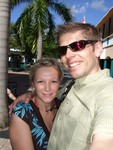 of maximum 6 people with them for a sail and snorkeling trip. We were on one of 3 sailing yachts that set sail for Crab Island. We enjoyed a nice smooth sail over to the island (I was on the helm most of the trip). There we donned snorkeling gear and dove in to explore the reefs. We were lucky and saw at least 5 sea turtles swimming around feeding on the grass. We also saw an octopus along with hundreds of very colorful fish. It was Steffi's first time snorkeling and she was definitely hooked (we might even go to the Philippines in February to do more snorkeling). The sail back was equally smooth. On board the Jewel we got ready for dinner and enjoyed another excellent evening. During dinner Steffi struggled to take pictures of a subject that didn't want to act "normal", but persistence paid off.
The next day we were in St. Maarten. We spent the first part of the day on the beach in Phillipsburg, before we went sailing again. This time on Americas Cup sailing boats.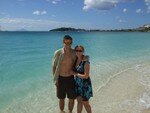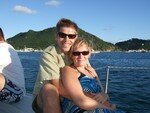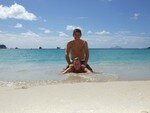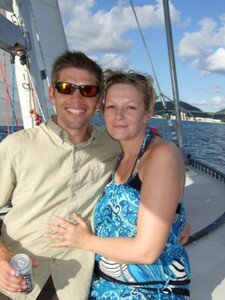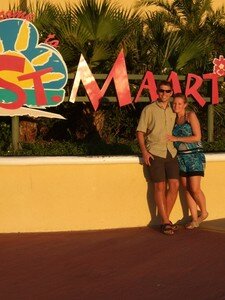 I've sailed with them a number of times before, but the thrill is always the same. We had an excellent time, even if we only got silver medal (in a race of three yachts) … It was a close race though! In the evening we went to my dad's cabin and had a succulent lobster meal. The lobster was prepared like Norwegians eat lobster: cold. It tasted delicious!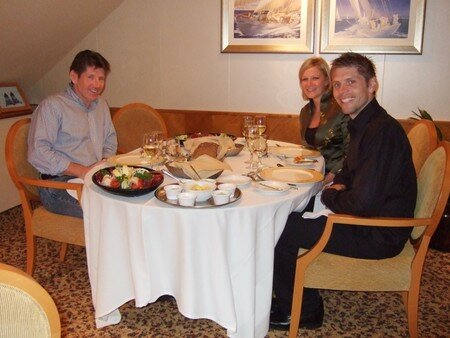 In Tortola we decided to chill and went for a leisurely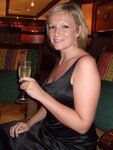 walk around downtown. A tip: Don't! … There was nothing to see. It wasn't a total waste, because we headed over to the marina and the charter base and had a look at a few different catamarans. Yummy … Catamarans! Soon I'll have my own! In the evening it was Thanksgiving and we were able to dress up in our finest attires yet again. We enjoyed a couple of glasses of champagne at various cocktail parties, before we tore into the turkey.
The next day was a seaday and in true fashion we lounged around and just enjoyed ourselves. The next day was our last day onboard and we spent the daytime walking around in Nassau in the Bahamas. We headed over to Paradise Island and looked around in the Marina, Aquarium and Casino. It's nice there, but just like Las Vegas, it's packed with people. We headed down to the beach and chilled out a bit before we grabbed a boat back to downtown. There we enjoyed a beer at Senor Frogs, before we hurried back onboard and the Jewel set sail for Fort Lauderdale.
The cruise had been an awesome experience. It had in fact been everything I hoped it would be and more. It was also great to hang out with my dad, since I don't know when I'll see him again.