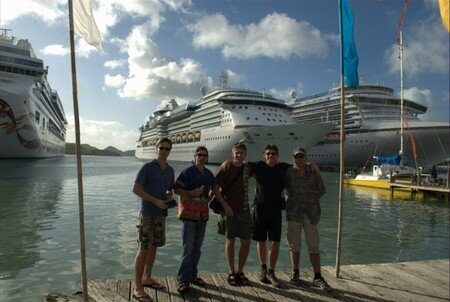 After months of no traveling, it was finally time to move my closet into my suitcase and head to the airport. I started my traveling day in style with a good lunch with Tine and James, followed by a nice and relaxing foot massage. The foot massage was in fact so relaxing that I had to high-tail it to the airport and only narrowly avoided missing my flight (the check-in was closing as I ran up to it).
It was a great feeling to once again be sitting on the airplane. That great feeling disappeared in Chicago where some wind and 3 cm of snow had thrown the place into chaos. Needless to say my direct flight to Fort Lauderdale had been canceled and the next available flight would have put me there 7 hours after the ship I was going cruising with was scheduled to leave port. After some begging they re-routed me through Raleigh (where I slept in the airport) and Charlotte, allowing me to get to Fort Lauderdale at the same time I was supposed to meet my mom the next day.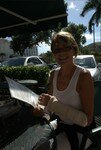 She was in Miami visiting friends and made the drive up to Fort Lauderdale to see me. It was great to catch up with her over a nice lunch. A few people have asked about the cast and I can assure you that my mom did not break her hand in a fight, but did it in an unfortunate meeting with some wet tiles in Spain. When she dropped me off at the cruise terminal I was short my closet filled suitcase, compliments of US Airways, who managed to get it to me 5 days later. It meant that I started my cruise with only the clothes I had on me. Less than ideal when you're going on a luxury cruise, but it worked out until my suitcase was delivered 5 days later.
It was nice to board the Jewel of the Seas. As soon as I got on board and met my father, I was teamed up with the family. This was a boys cruise sponsored by my grandfather. The other perpetrators were: my cousin Christer, my uncle Geirulv, my grandfather Armand, and since we were on my father's ship he was naturally involved as well. Oh, and Olav Petter, a friend of my father that was cruising. He quickly became an honorary member of the family. We had a nice itinerary ahead of us. San Juan, St. Martin, St. Thomas, Antigua, Nassau … basically all over the Eastern Caribbean.
We set sail at 5 p.m. and set course for Puerto Rico. Our first proper day on board was spent at sea, giving us ample time to enjoy the sun, the pool … and the drinks … lot's of drinks. The second night on board was formal night and Royal Caribbean was kind enough to lend me a tuxedo, so even though I had no clothes of my own, I could still show up for dinner. I'll sum up the dining room experience we enjoyed the entire cruise: excellent service and fantastic food.
After 2 days at sea in borrowed clothes I spent the day in San Juan, Puerto Rico renewing my wardrobe. It worked out well: I bought everything I wanted and the total came out $5 over the allowance my traveling insurance gave me. I was a happy shopper.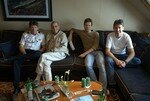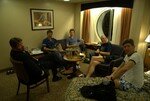 Next stop was St. Martin. Christer and me started the day by sailing on True North, Canada's entry into the 1987 Americas Cup. We were racing Stars and Stripes, the winner of the Americas Cup that year, but needless to say we stomped them. The other team blamed it on the two Norwegians =) It was good fun. We finished off the day doing manly shopping: electronics. He bought a new camera and watch, while I bought a new lens for my Nikon. We were both happy with the bargains we'd gotten and celebrated it with a bucket of beer, before we had to run back to avoid missing the ship.
In Antigua we went for a speed tour of the beautiful island ending at the Nelson Dockyard. This used to be Admiral Nelson's base in the Caribbean and though he drew his last breath in 1805, courtesy of a French sniper at the battle of Trafalgar, his base in the Caribbean is still thriving. The lineships are gone, replaced by big beautiful yachts and a few good restaurants. We enjoyed the food and the scenery there before we headed back. We had enough time for a pit stop at the famous C&C Wine Bar before we boarded the ship.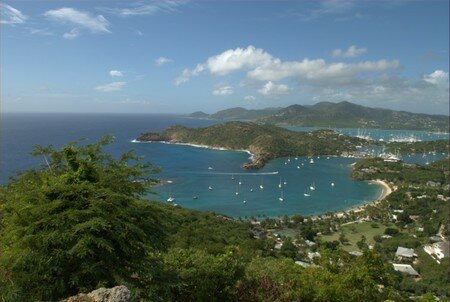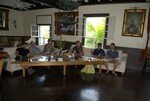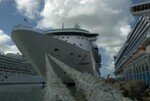 Next port of call was St. Thomas. We met Martyn and Billie, friends of my father, and lounged around the pool at their beautiful house. It overlooks the harbor and is nothings short of magnificent. Just look at that view!
Next we had a day at sea, followed by our last port of call: Nassau, Bahamas. Since I've been to Nassau a number of times before, I opted to stay onboard to hang out with my father, while the rest of the family toured the aquarium on Paradise Island. The next morning we glided into Fort Lauderdale and 8 days of cruising fun was over. It was sad to say good bye, but with the exception of my father I'll meet all of them when I head home for New Years.
My flight back to Beijing left the following morning at 6 a.m. and by pure luck an old friend of mine Rasmus visited the ship and kindly offered to drive me to the airport the following morning. We could have had a quiet early night… Alas, we didn't.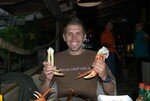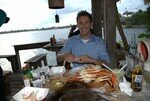 It started with a great crab meal at Le Tub, a famous Fort Lauderdale restaurant, quickly followed by a trip to a few nice places on South Beach. We also hooked up with Maria, a friend of his to enjoy the various beverages the bars had to offer. Maria learned that we don't force people to drink, we just carry them back to the bar if they decide to leave. It was a great night that set me up with the perfect sleep depravation I needed to rest properly on my flights back to Beijing.