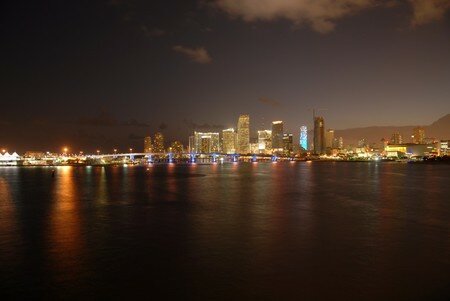 Though Ecuador had been awesome it was nice to get back to civilization again. We went straight from the airport to Hertz and picked up a 2007 KIA. It served me very well in the week I was in Miami.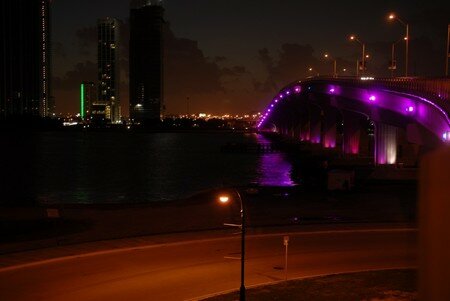 We drove back to Rasmus's flat on South Beach, dumped our stuff, took a nice long shower and headed out to explore Miami. We drove towards South Miami, so that I could show Steffi my old hunting grounds. First stop was just past Dadeland. While Steffi fell in love with Target (pronounced Tarsjè), I browsed through Best Buy and Sports Authority. Unlike Steffi I came out empty handed. We then proceeded further south to The Falls. This used to be right next to where we used to live (in '88 – '90) so it was nice to be back. We walked around for a few hours and decided that we'd return on Friday. Then Steffi could shop while I caught a movie in the cinema. We went across the street and ate a memorable seafood dinner at Red Lobster. I was genuinely surprised at both the quality of food and the level of service.
The next morning we were once again on the road before 5 a.m. Under the cover of darkness we shot through Alligator Alley to Naples and then north to Sarasota. There we met Dan Evans that showed us and a group of other potential buyers around at the Manta factory. I'll go in detail about that trip here.
After the factory visit, we drove down south to Fort Meyers, where we met up with another couple and went out on a brand new Manta 42 MK IV for a little test sail. It was excellent. We didn't have a lot of wind, but we got to test the Manta's light air capabilities. We also saw a large steam of a hundred or so stingrays that circled the boat. Steffi was very happy a little later, when a couple of dolphins popped by to say hi. Seeing that I managed to forget my camera equipment on the pier, we don't have any pictures of any of this, but we won't forget it anytime soon. Darkness was rapidly approaching so as soon as we hit the pier we hurried back to Miami.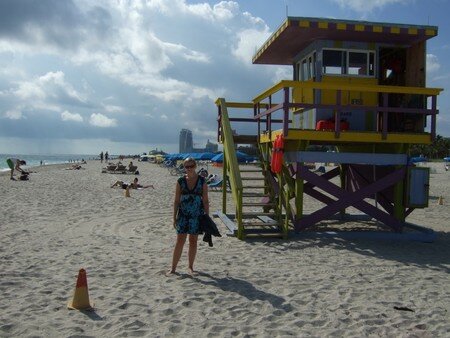 The next day we had a lazy morning. We went for a walk down Lincoln Road and on to the beach. After dipping our toes in the ocean we went up on Ocean Drive, where we decided that Versace's place isn't half bad.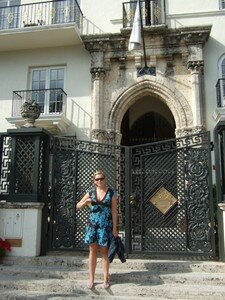 When our stomachs started growling we dropped by News Cafe for a very tasty lunch.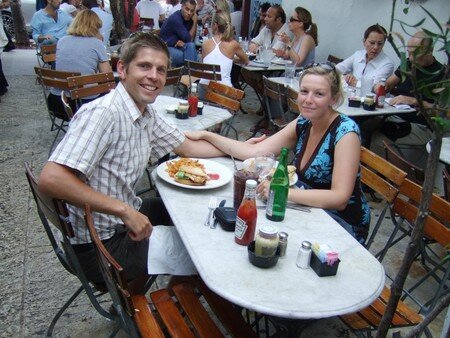 Lunch was interrupted by some fairly heavy rains, but seeing that our waiter moved us to a table inside before we got drenched it wasn't a problem. With freshly filled stomachs we picked up the car and drove down to the Falls. Steffi went shopping, while I saw Hitman. Both of us were happy =) Afterwards we headed back to South Beach and stuffed our faces courtesy of Dominos Pizza.
The next morning I drove Steffi to the airport at 4:30 a.m. She had to return to work, while my travels would continue another week. My remaining time in Miami was spent chilling out in the daytime and hanging out with Rasmus in the evening.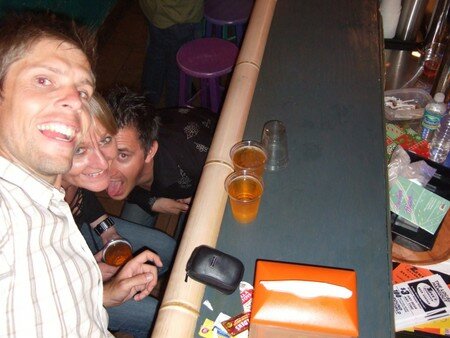 Rasmus and I have a fantastic understanding when we go out: Nothing is too stupid and everything is funny. Needless to say we're a great (bad?) influence on each other.
When I recovered from the evenings, I got some Christmas shopping done and got to drive around and look at Miami like I've never really done before. I really like Miami, it has a good feel … and a great temperature. Rasmus and I also went for some nice rides on his new Triumph Rocket III. It makes my bike in Beijing look like a broken roller-skate.
When I handed the car back to Hertz and shot off to the airport I was sad to leave. I really like Miami and can't wait to go back again.