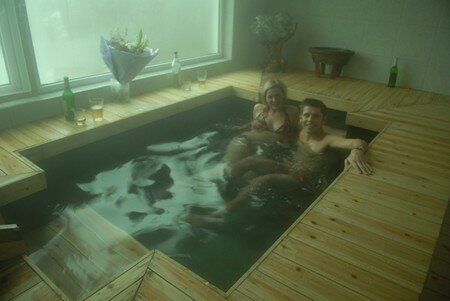 Steffi's birthday was an excellent opportunity to dodge out of Beijing to enjoy some quality time in nature. After looking at our options, everything pointed in the direction of the XYG resort about an hour North of Beijing. It came warmly recommended from a friend and their price wasn't bad (certainly the best for what we got out of all our choices.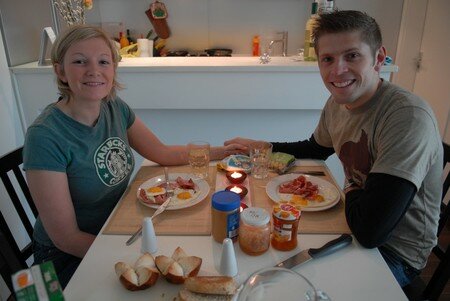 Steffi had taken the Friday (her birthday) off, so when we woke up she could relax, while I ran out and bought fresh bread, eggs and bacon for a proper birthday breakfast. A hearty meal got us ready for our 24 hour resort-holiday. They sent a Mercedes to pick us up, so we rode there in style. I was worried that it would be close to an urban area, but it was secluded in a little quiet valley, where we were the only inhabitants. When we got there the staff was expecting us and everything was in order. The room was awesome and since it was Steffi's birthday, they had supplied a fresh bouquet of flowers. Seeing that it was approaching noon, we immediately went to work on the Whisky and Martini we had a brought.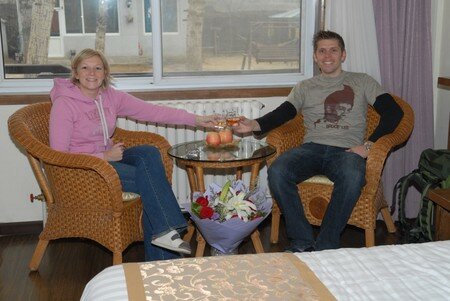 Steffi had received some gifts from home and thinking they were the only ones she'd receive, she tore into them with fervor and enthusiasm. Her mother had given her some nice tops that she needless to say had to try on.
After a great noodle lunch we descended on the hot spring pool we had in our room. It was filled with hot spring water filled with minerals that's good for your skin. We stayed in the water for several hours, just chilling and enjoying it.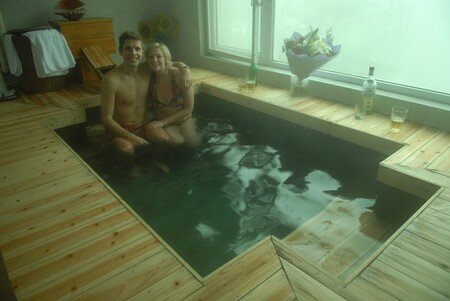 We looked like prunes when we finally emerged from the pool. In order to cool down a bit we went for a little walk outside to sharpen our appetite before dinner. To our surprise it had started to snow.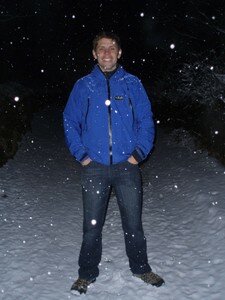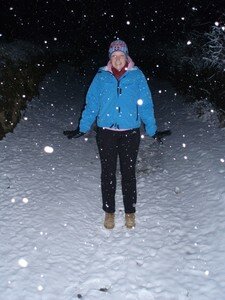 After our little walk it was time for dinner. The chef at XYG used to work for Zhaolong hotel in Beijing and he really dished up some nice food.
They really impressed us when they played the birthday song on the karaoke machine, shortly before they brought out the best chocolate cake I've eaten in China.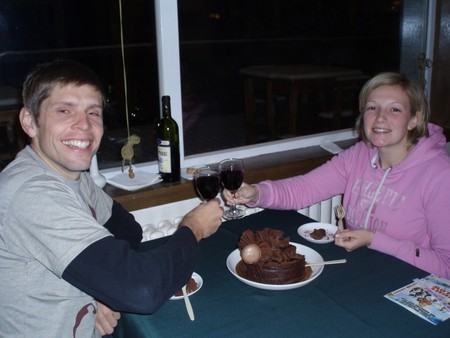 As you can tell from the picture I was starting to feel the effect of the wine that they had gracefully given us. It might have something to do with my pace …
After dinner we retired to our room, to continue the party. I gave Steffi a little gift to keep her company when I'm not there (minds out of the gutter please 😉
The next morning I attacked breakfast with great enthusiasm.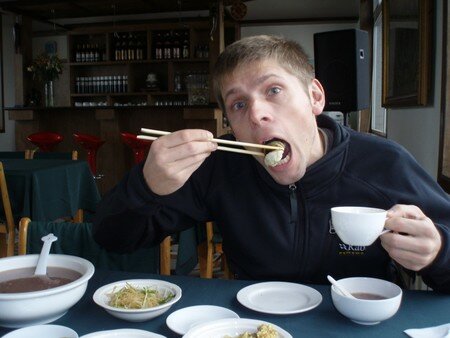 The snow was still hugging the landscape, so we decided to go for a nice long walk. The air was thick with fog, giving it a magical feel as we walked through the forest.
If there should be any uncertainty, we loved the 24 hours we spent at the XYG resort. It was in one word: Perfect. Next time we'll try to round up a group of people, so that we can enjoy the BIG pool they have. Picture 10 – 15 people enjoying the "all you can drink" bar menu, while soaking in this mineral pool.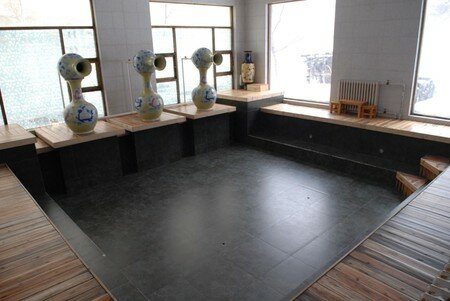 We headed back to Beijing after a quick lunch and got ready for dinner. What better way to celebrate a birthday dinner together with friends, than to do it "Russian style"? … Pictures will be posted when we sober up …