After spending all of July on the soaring Tibetan plateau it took exactly 2 weeks before it was time to head out on a new adventure. Since any mountain around Beijing would feel a bit bland with Everest so fresh in my memory, we decided to head to the beach. Cory, Steffie and me stuffed our backpacks with food and alcohol, and topped them off with tents and sleeping bags, before we boarded the train bound for Bei Dai He. This supposedly very popular beach spot for Chinese is only 2 hours away from Beijing by train.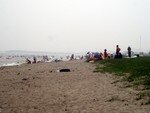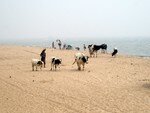 When we got there, we grabbed a taxi and headed to a relatively secluded part of the beach to avoid the tourist crowds. The spot was excellent and only the occasional person came by to say hi … in addition to a herd of cows and some unwanted guests while we were sleeping, but more about that later.
It was really nice to get away from the city. We sucked in the fresh air and enjoyed nice walks on the beach, along with refreshing swims in the sea. The temperature was good and the water seemed surprisingly clean. The beers we had brought disappeared quickly and though we had brought a bottle of whiskey as well, warning flags started rising when we finished the last beer before 4 p.m. Since we were on a beach far away from the tourist machine, we figured it would be tough to get more beer. Wrong! A lady renting out beach chairs came by and quickly understood our predicament. She offered to remedy the situation and soon we had enough beers to last the entire evening … well … sort of.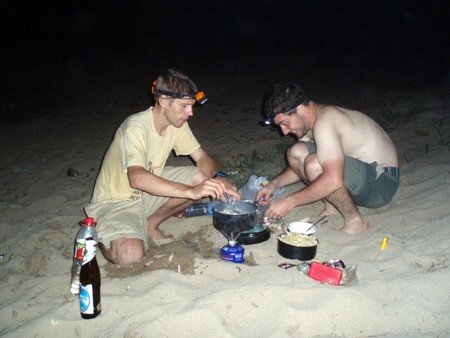 When darkness fell, Cory and me started making food. We fired up the burner and cooked up a delicious pasta dish. Having polished off the food, we did the same to our beers.
Further down the beach flames were licking the sky, so we decided to head over to join the group behind the bonfire. We were quickly invited to join them. I think it was more because of Steffie and her blond hair than
Cory or my Chinese. We nevertheless enjoyed their hospitality … and beer. Before soon we were challenged to a wrestling match, not because we had polished off their beers as well, but because one of their guys was supposed to be good. Cory and me were equally crap and he beat both of us with one hand on his back. We later found out he had been an Olympic wrestler… No wonder everyone was so confident that we would loose.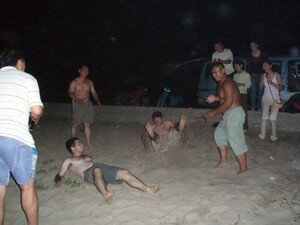 I restored some semblance of manliness by walking/jumping through the fire a few times (intentionally) and when we were given some fireworks Cory and me made the skies unsafe. Steffie had quickly become a sweetheart for all the Chinese guys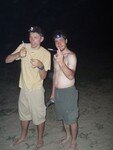 … I suspect that's why they were so quick to invite us over when they saw her in the first place. They all wanted pictures with her and I think the Chinese girls there felt a bit snubbed. In the end they had to go home to a proper bed, while we headed back to our campsite and chanced a quick skinny dip. Wet, drunk and happy we erected our tents and promptly fell asleep … some quicker than others …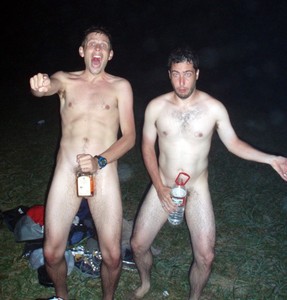 The next morning it was obvious to me that unwanted visitors had used the cover of night to sneak up on me. I must have had 60 mosquito bites just in my face. I was a sight only my mother could love. Since we had eaten all the food for dinner, we packed our gear and grabbed a bus into town, where we enjoyed an all you can eat pizza buffet. The food hit the spot and instead of waiting for our return train, we jumped on the first bus with available seats and headed back to Beijing.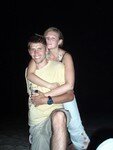 The trip had been awesome and we swore to return … we also learned that Chinese mosquitoes are malicious little bastards, so when we return we'll bring the mosquito repellent Cory left on the dining room table when he was packing for the trip.