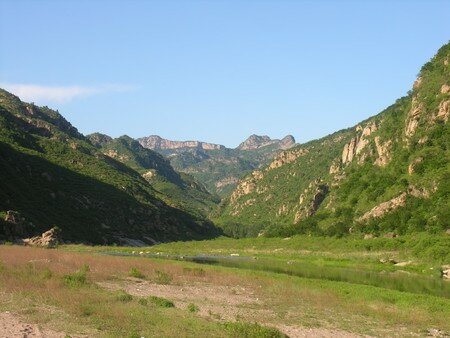 Having just come back from my trip to Norway I was happy to hear that Vinnie was organizing a trip to Bai He. Vinne was the only one going that knew what we had in store and as soon as we got there I knew why he was so excited about it. To get there we shared the cost of renting a bus with a driver and to be honest spending 100 RMB to get there and back was a bargain.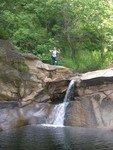 It was a 3 hours drive to the parking lot and another hour or so of walking along a scenic path before we got to Bai He. Bai He is a beautiful river that winds through the mountains north of Beijing and ends up in a water reservoir.
We were 18 happy souls that found ourselves at a river crossing, with Vinnie promising us excellent camping on the other side, just a little bit downriver. Normally when people say that it means that you have a Hellish hike ahead of you, but in this case it was actually only 5 minutes of easy walking from the crossing.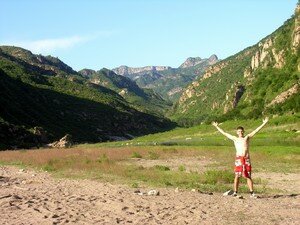 Our campsite was simply where we dumped our gear. I had decided to bring beer and not being particularly intelligent decided to bring glass bottles of beer (don't worry we didn't break any or leave any behind) … but there was a slight weight issue. When you bring glass bottled beers with 18 people in mind it weights "a little bit". It got there and was appreciated by all. To my joy it was still cold.
The daytime was basically spent swimming in the river and …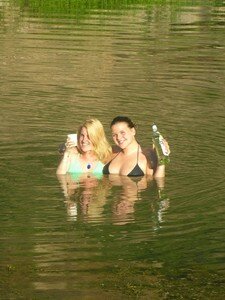 well, enjoying the various drinks we had brought … Without lying I think I can say that most of us were severely "tipsy" by 6pm.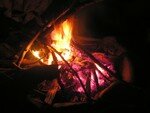 We collected firewood and made a nice campfire and once the sun set everyone had to do something creative in front of the others. Some acted, others played music and some read stories or quotes from the day. It was very nice. At around midnight, people started dropping off one by one, from a mixture of fresh air and alcohol. Almost everyone spent the night in their sleeping bags under the stars … some even shared their sleeping bags.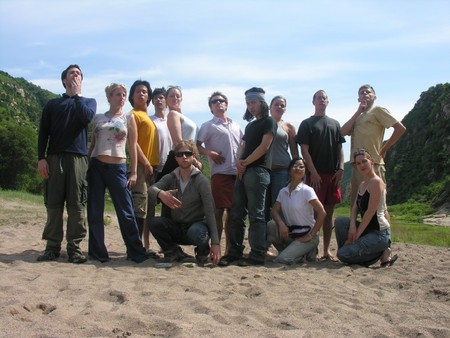 The next morning it was time for some creative pictures, before we packed our bags and returned to the bus.