Yesterday I was very conflicted about being lifted back on water, because I only had one working engine, a windless that didn't work properly and most importantly no place to tie up. Thankfully I had a chat with Ian and Westa (a very nice couple staying in the marina on their Benetau 39). Ian convinced me to go ahead with the original plan and after we devised a clever plan for where to tie up, I was sure. I tried to call the crane operator last night to find out when they were showing up, but seeing that it was Sunday, his phone was turned off.
I was up bright and early at 6:30 a.m. to change one of my propeller zinc anodes and to remove the masking tape from my waterline anti-fouling paint job. At 6:50 a.m. I get a text message: The crane will be there within 30 minutes. My first thought was: SHIT. The masking tape was proving to be a real nightmare to get off, because while I got the tape off, the glue stayed on the hull. So I knew I could look forward to a nice day's work with turpentine, scraping the bloody glue off, from the comforts of my dinghy. Yay!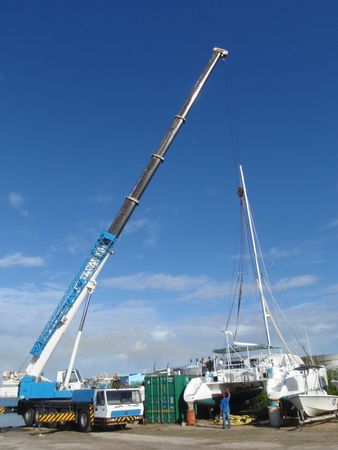 They showed up as promised and I was happy to see that it was a big crane. If you ever need a crane on Aruba, don't go to Arcos, they are overpriced, have old cranes, are unfriendly and unreliable, I know, because I used them to lift me out. I used Albo to put me back in, spearheaded by Henk de Wit and it was a great experience. They showed up as promiced and did an excellent job.
I was overly stressed, because there was a million things to do and they told me they were only operators, I was responsible for the rigging and hooking up of the lifting gear. Now I was very thankful for my summer job at NorSea, because I knew what to do. I was also super helpful for Ian's help, I wouldn't have been able to do it without him. Petar was also handy, because he took all these pictures of the lift, so that I actually have some visuals here.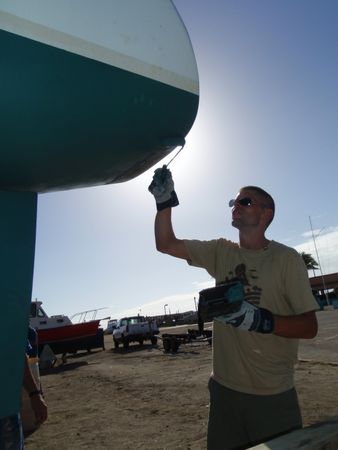 I had 5 minutes to paint the spots the boat had been resting on, before the lift was executed.
I was VERY relieved when AI had water instead of air under her keel. While we were tied up at the dock I cleaned the deck and refilled the water tank, before it was time to inflate the dinghy, so that we could move the boat to Ian and I's cleverly devised spot.
With the dinghy on the water we moved AI to the new spot, hanging off the end of the pier, taking up no real dock real-estate, while still being connected to the World and most importantly not needing to use my non-functional windless.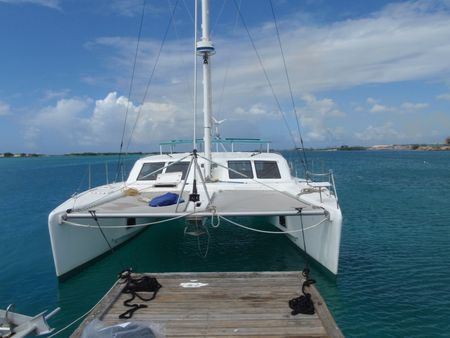 We did row out my spare anchor (Fortress 37), to avoid swinging too much, especially if the wind gets into a fickle mood. With the boat fully secured Petar helped me mount the brand new stack pack … There's only one thing to say about it: It's gorgeous!
With that in place, we mounted the mainsail. A Hellish job on your own, but on OK job when you are two.
I decided to mount the old mainsail, even though I have a brand new mainsail. There were a couple of factors influencing me, first and foremost, that Petar was only here for the day and it would take too much time to move all the sail hardware from the old to the new … and I figure that if I can get some extra nautical miles out of the old sail … why not, do it?
The original plan was to also mount the genoa, but the old furling line had snapped and I didn't have a new one (I forgot that it had snapped), so I need to buy one, before I can mount it).
With the day's work done, I grabbed a shower and a bottle of Pinot Noir, before we headed over to Westa and Ian to enjoy a delicious 3 course dinner. They invited us over, knowing that on a lifting-in-day, food normally receives a low priority. I was enormously grateful .., and the food was excellent: shrimp cocktail as appetizer, pasta with pumpkin sauce for main course and a delicious dessert to finish it off. Fantastic.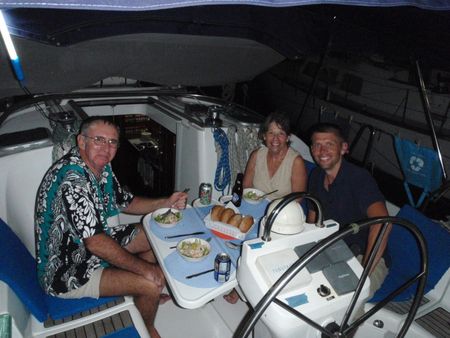 After dinner, Petar did his Everest presentation in the marina bar for us and few others. It was a nice way to finish the evening. After the presentation everyone went their separate ways and Petar and I said our good byes, because we won't meet again on this sailing trip.