Before Petar sent me the text message that he was going home I was busy deciding on what to do onboard the boat, because it is/was a bit of a mess here.
Thank God I had just bought a new cooler and had restocked it like one should.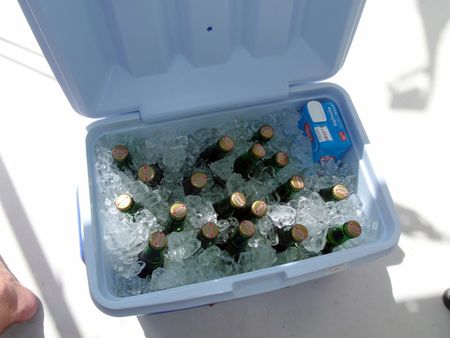 The milk is for White Russians (The drink … I have yet to meet Russians here). I ended up sharing a few of my beers with a couple of guys working on the submarine you might have seen in an earlier video. Well, they ended up inviting me to go diving with them tomorrow (Saturday).
It was quite funny, because on the way to the dive-spot, it dawned on Maarten, the other scuba diver, that when he invited me, we were in high spirits due to the beer and he had actually not asked how experienced a diver I was. When he heard that I did my first scuba dive when I was 6 and that I got certified when I was 14, he visibly relaxed.
They will probably use some of the pictures I took on their website. It was a lot of fun and if I'm lucky I'll get to go inside the submarine in one of the coming days.
I also need to focus on my sweet boat, because there are a few things that need immediate attention. Fist on my list is getting the windless (anchor winch) to work. Right now it either pulls the anchor, up, or if I rewire it, down. From the looks of it a relay is fried, but I'm trying to find out exactly which one(s), or if it is a corroded wire. Second on the list is changing the clutch plate on my port engine, so that it will finally be operational again. The third thing on my list is unclogging the starboard fuel line, with these three things accomplished I can finally be mobile on water.
African Innovation is scheduled to be lifted back in tomorrow, which I really look forward to. There is something wrong with a boat on land … it doesn't look right and it sure doesn't feel right. Ah … tomorrow: Monday will be a brand new day.