July month had been penciled into my calendar as the month Torstein would be visiting. Needless to say the Wall was at the top of our list of things to do while we were in Beijing. Our reasons for going were two-fold. First of all, he had to become a man, as per Mao's saying (no person is a man until he's been on the Wall) and secondly to test our gear before we head to Tibet.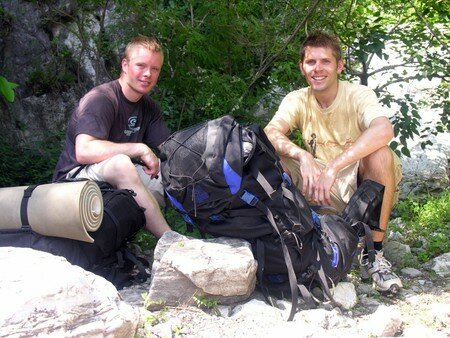 In all parts it was a success. We followed the gameplan my brother and me used when we slept on the Wall in March and headed to the same spot we used then. It was not only warmer now, but also much greener than when my brother and me went.
The hike in itself was nice and perfect to get the heart pumping and the sweat flowing. We got to the same tower my brother and me slept on and set up camp there.
We made a delicious dinner using my newly purchased multi-fuel stove. After dark we also made a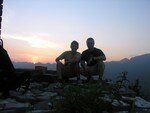 fire that we grilled some hot dogs on. When we started making food the largest concentration of mosquitoes I have ever seen started hovering over us. It was insane how many there were, but the amazing thing was that they didn't sting us. They let completely let us be, which pleased us and worried us … afterall wasn't our blood good enough?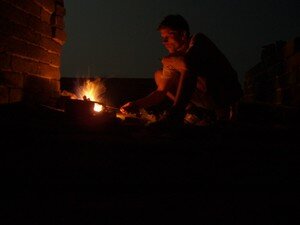 Like the last time I had brought firework, so like true 12 year-olds, we sent a couple of salvoes into the air before creeping into the sleeping bags. The next morning a thick fog hugged the landscape, so instead of sticking around for the sunrise, we broke camp and headed out after a nice breakfast. Before Mutianyu opened we were shooting through their gates and were in a taxi bound for Beijing. This before the hawkers had noticed us. The trip was excellent and served to wet our appetite properly for Tibet.